Pieces of My Mother: A Memoir (Paperback)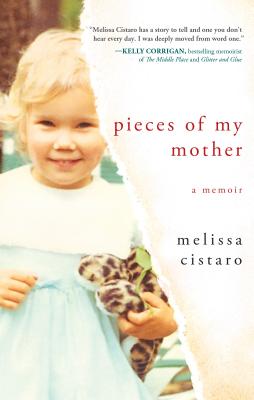 $14.99
Email or call for price
May 2015 Indie Next List
---
"Cistaro's story begins with the last days of her mother's life, 35 years after she abandoned her children and husband with no explanation. Cistaro is still seeking the truth and the one answer that she feels she needs most desperately - why did her mother leave? What is most impressive about this memoir is the honesty with which the author details her own anxieties, and readers will relate to her and cheer her on when she makes an important, life-changing decision. This is an amazing story of forgiveness, connection, understanding, and grace."
— Lynn Riehl (E), Nicola's Books, Ann Arbor, MI
Description
---
"A story that lingers in the heart long after the last page is turned." —HOPE EDELMAN, bestselling author of Motherless Daughters and The Possibility of Everything
This provocative, poignant memoir of a daughter whose mother left her behind by choice begs the question: Are we destined to make the same mistakes as our parents?
One summer, Melissa Cistaro's mother drove off without explanation Devastated, Melissa and her brothers were left to pick up the pieces, always tormented by the thought: Why did their mother abandon them?
Thirty-five years later, with children of her own, Melissa finds herself in Olympia, Washington, as her mother is dying. After decades of hiding her painful memories, she has just days to find out what happened that summer and confront the fear she could do the same to her kids. But Melissa never expects to stumble across a cache of letters her mother wrote to her but never sent, which could hold the answers she seeks.
Haunting yet ultimately uplifting, Pieces of My Mother chronicles one woman's quest to discover what drives a mother to walk away from the children she loves. Alternating between Melissa's tumultuous coming-of-age and her mother's final days, this captivating memoir reveals how our parents' choices impact our own and how we can survive those to forge our own paths.
About the Author
---
Melissa Cistaro is a bookseller and the events coordinator at Book Passage, the legendary San Francisco Bay Area independent bookstore, where she has hosted more than 200 authors. A writer and mother of two, she has been interviewed on a number of radio shows and has been published in numerous literary journals including the New Ohio Review, Anderbo.com, and Brevity as well as in two anthologies alongside Anne Lamott, Jane Smiley, and other writers. Melissa graduated with honors from UCLA and continued her education with the UCLA Extension Writers' Program. She has participated in the Tin House Writer's Workshop in Portland and The Writer's Studio in Los Angeles. She lives in San Francisco.
Praise For…
---
"This is an astonishing book, full of heartbreak and love and hard-won wisdom. Melissa Cistaro writes beautifully not just about her search for the mother who abandoned her, but about the myriad ways parents and children don't and do connect. Told in vivid scenes and through the texts of letters her mother never sent, Cistaro chronicles a journey that goes way past forgiveness to true understanding." — Will Schwalbe, bestselling author of The End Of Your Life Book Club

"Sometimes we are defined as much by the person who is missing as the person who is there. Melissa Cistaro has a story to tell and one you don't hear every day. I was deeply moved from word one." — KELLY CORRIGAN, bestselling memoirist of The Middle Place, Lift, and Glitter & Glue

"Melissa Cistaro's imagery is startling and vivid, her story brutally honest and devoid of judgment. Pieces of My Mother is a story that lingers in the heart long after the last page is turned." — HOPE EDELMAN, bestselling author of Motherless Daughters and the Possibility of Everything

"Full of hope, regret and lessons learned, Pieces of My Mother is a unique and compelling look at how profoundly mothers affect our lives. Whether absent or hauntingly close, longing for a mother can force a child into maturity beyond her years, and garner her with a lifetime of longing. This book is as lyrical as it is honest, as humorous as it is heartbreaking." — MONICA HOLLOWAY, bestselling author of Cowboy & Wills and Driving with Dead People