The Physiology of Yoga (Paperback)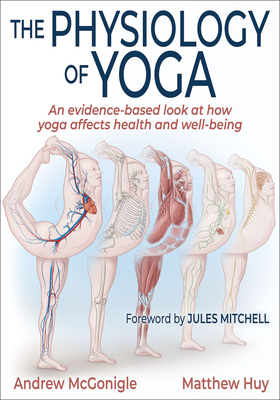 Description
---
While many people practice yoga simply because it helps them feel good, the physiological basis for yoga's effects on the body and mind is often unknown or misunderstood. Understanding these physiological concepts can help to deepen your yoga practice.

The Physiology of Yoga separates speculation from fact by examining how the body responds and adapts to yoga within many systems of the body: musculoskeletal, nervous, respiratory, cardiovascular, lymphatic, immune, endocrine, reproductive, and digestive. Straightforward explanations guide you in sorting through conflicting information about what yoga really can help you achieve and in evaluating whether certain yoga methods provide benefits to any or all of those systems.

You can experiment with concepts through Try It Yourself sidebars, which focus on mindful movement, meditation, and breathing. The 14 Myth or Fact sidebars explore popular claims about yoga, such as whether a shoulder stand can stimulate the thyroid or if twists can detoxify the liver. You'll get the most current research to determine the validity of various claims so you can avoid practices that could be harmful or counterproductive and can decide for yourself what works for your practice.

Finally, experience firsthand how yoga affects your physiology by exploring specific yoga poses and four sequences. Each sequence explains which of the physiological principles from the earlier chapters may be most prevalent in that sequence.

With The Physiology of Yoga, you or your students can navigate all the conflicting views and opinions about the impact of yoga and learn to practice yoga while fully enjoying the benefits of mindful movement.

CE exam available! For certified professionals, a companion continuing education exam can be completed after reading this book. The Physiology of Yoga Online CE Exam may be purchased separately or as part of The Physiology of Yoga With CE Exam package that includes both the book and the exam.
About the Author
---
Andrew McGonigle has been practicing yoga and meditation for over 15 years and teaching yoga since 2009. He teaches anatomy and physiology in many yoga teacher training courses and leads his own international workshops.

Although McGonigle studied anatomy in great detail during medical school, he learned to look at it from a different angle and create ways to make it relevant to yoga. He enrolled in hands-on dissection classes focused on fascia and spent his spare time rereading anatomy books, listening to podcasts, and talking about anatomy with anyone who would listen.

McGonigle previously contributed a monthly article to Om Yoga & Lifestyle magazine ("360° Yoga With Doctor Yogi") and wrote two chapters for Yoga Teaching Handbook: A Practical Guide for Yoga Teachers and Trainees. He is also the author of Supporting Yoga Students With Common Injuries and Conditions. McGonigle resides in Los Angeles.

Matthew Huy (pronounced "hooey") has been teaching yoga since 2005. He teaches anatomy and physiology in many teacher training courses in addition to providing mentoring and professional development workshops to yoga teachers.

While studying biology in college, Huy discovered the joy of movement when he enrolled in a dance class and then a yoga class. A few years later, he changed tack and went on to complete a bachelor of arts degree in dance from California State University at Long Beach and completed teacher training courses in yoga, Pilates mat work, TRX, and Thai yoga massage. In 2021, he completed a master of science degree in sport, health, and exercise science at Brunel University at London, where he focused on exercise physiology and pain science. His master's research centered on the impact of yoga teachers' language on their students. Huy resides near London in the United Kingdom.
Praise For…
---
"This is the book I didn't know I was waiting for! There are lots of books on yoga and anatomy but very few on yoga and physiology. This book beautifully meets the need. It is extensive and yet very accessible. I am pleased to add it to my library."
—Bernie Clark, Yoga Teacher and Author of the Your Body, Your Yoga Trilogy

"At last! A thorough, evidence-based resource (complete with much-needed myth busting!) about the many systems of the body and how a yoga practice interacts with and influences them."
—Jenni Rawlings, E-RYT, Cofounder of Strength for Yoga and Cohost of the Yoga Meets Movement Science Podcast

"Every now and then, in the 40-odd years I've been practising yoga, I come across a book that makes an invaluable contribution to some aspect of my understanding of yoga. The Physiology of Yoga is just such a book. I give this book my highest recommendation; it's an essential study guide and reference source for serious students and teachers, and it should be on the recommended reading list of every yoga teacher training program."
—Richard Rosen, Yoga Teacher and Author

"This title fills a long-standing gap in the essential reading lists for yoga teacher training programs. Hopefully, it will prevent yoga teachers from repeating some of the most commonly held myths and misconceptions about the physiological effects of yoga practice."
—Leslie Kaminoff, Coauthor of Yoga Anatomy 

"Matthew and Andrew are world-class leaders in the field of yoga anatomy and physiology. Their clear and articulate perspective about the practice is matched only by their passion and undeniable service to teachers and dedicated practitioners worldwide. In the modern era of the yoga practice, it is reassuring to know that we have their work to guide us forward."
—Michael James Wong, Author, Educator, and Founder of Just Breathe and Krama Yoga

"Andrew and Matthew have done the work so we can do what we do better. A physiology book for anyone with a keen interest in the body. Full of detailed descriptions, clear illustrations, and beautiful images to inspire you to keep moving."
—Naomi Annand, Yoga Teacher and Author of Yoga: A Manual for Life and Yoga for Motherhood

"The Physiology of Yoga sheds light upon the latest scientific research on how yoga affects—or doesn't affect—our bodies. It is a must for the modern yoga teacher or practitioner who seeks to learn more about yoga and anatomy from a fresh perspective."
—Tatiana Avila Bouru, Yoga Teacher and Cofounder of Yoga With Alex and Tatiana

"The Physiology of Yoga is a truly evidence-based resource that busts many myths. It delves into some big questions about movement that would be hard to answer accurately on Google! An essential guide for all yoga teachers—new and old—packed full of useful tips and practices."
—Kate Brandon, "The Physio Yogi," Physiotherapist and Yoga Educator

"What a brilliant, witty book! I really loved the dispelling of myths sections and the clear and concise illustrations. It was a sheer pleasure to read. I certainly learned a tremendous amount to update myself on the latest research and current principles of physiology. This book is sure to be a constant companion for an academic doing research in yoga and the avid yogi or yogi in training who wants to take a deeper dive into how yoga affects the body."
—Indira Subramanian, MD, Clinical Professor in the UCLA Department of Neurology