Living Right: The Ideal of a Moral-Spiritual Therapy (Hardcover)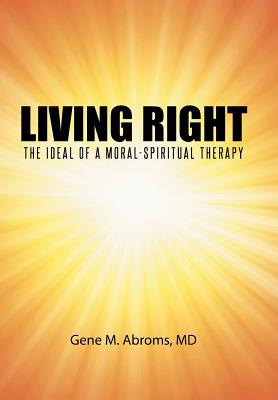 $31.95

Usually Ships in 1-5 Days
Description
---
Presenting a positive, optimistic look at our spiritual potential, author Dr. Gene M. Abroms focuses on how we can transcend the scientific determinism of the empirical mind-set to offer a therapy and lead a life guided by moral values. In Living Right, he shows how taking into account the spiritual reality provides the goals for psychiatric and psychotherapeutic treatment, transforming it from a limited applied science to the expanded scope of a healing art and science.
A philosophical treatise with clinical illustrations, Living Right elaborates on the argument for adding the spiritual dimension to psychotherapy by distinguishing between neutral, objective treatment, and inspirational healing that takes advantage of patients' will to health and meaning. It discusses what spiritual means in a modern context, what is involved in a spiritual therapy, what the role of depression is in paralyzing the will, and how medication and psychotherapy can play roles in freeing the will.
Promoting value change and focusing on the purpose of life-living right-Abroms presents a practical philosophy of the means required to achieve the ends of freedom of will, authenticity of self, strength of character, and compassionate empathy.