Wicked: The Life and Times of the Wicked Witch of the West (Wicked Years (Audio) #1) (MP3 CD)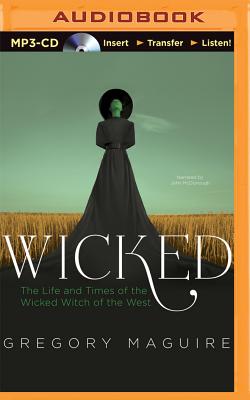 for information about purchasing this book, please contact orders@bookpassage.com
Description
---
Heralded as an instant classic of fantasy literature, Maguire has written a wonderfully imaginative retelling of The Wizard of Oz told from the Wicked Witch's point of view. More than just a fairy tale for adults, Wicked is a meditation on the nature of good and evil.
Elphaba is born with green skin, a precocious mind, and a talent for magic. An outcast throughout her childhood in Munchkinland, she finally begins to feel as though she fits in when she enters the University in the Emerald City. While she hones her skills, she discovers that Oz isn't the Utopia it seems. She sets out to protect its unwanted creatures, becoming known as the Wicked Witch along the way.
Narrator John McDonough draws you in to Maguire's magical world of witches and talking animals, making it possible to believe in a land somewhere over the rainbow.