Bad Singer: The Surprising Science of Tone Deafness and How We Hear Music (Paperback)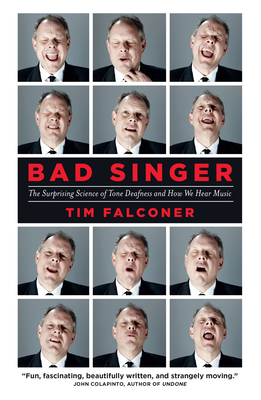 $16.95

Usually Ships in 1-5 Days
Description
---
Tim Falconer, a self-confessed "bad singer," always wanted to make music, but soon after he starts singing lessons, he discovers that he's part of only 2.5 percent of the population afflicted with amusia -- in other words, he is scientifically tone-deaf. While many tone-deaf people are indifferent to music, or even actively dislike it, for Falconer music is a life-long passion.
Now available in paperback, Bad Singer chronicles his quest to understand human evolution and music, the brain science behind tone-deafness, his search for ways to retrain the adult brain, and his investigation into what we really hear when we listen to music. In an effort to learn more about his brain disorder, he goes to a series of labs where the scientists who test him are as fascinated with him as he is with them. He also sets out to understand why we love music and deconstructs what we really hear when we listen to it. And he unlocks the secret that helps explain why music has such emotional power over us.
Throughout this journey of scientific and psychological discovery, he puts theory to practice by taking lessons with a vocal coach in order to achieve his personal goal: a public display of his singing abilities.