Monster Hunter Siege (Mass Market)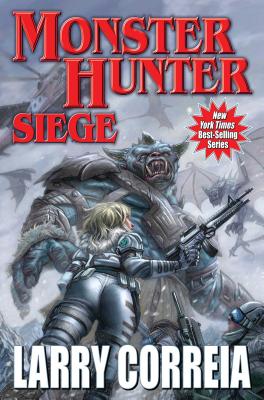 for information about purchasing this book, please contact orders@bookpassage.com
Other Books in Series
This is book number 6 in the Monster Hunter series.
Description
---
#6 in multiple New York Times bestseller Larry Correia's Monster Hunter series.

GO BIG OR GO HOME

When Monster Hunter International's top hunter, Owen Zastava Pitt, was given a tip about some hunters who had gone missing in action, he didn't realize their rescue mission would snowball into the single biggest operation in MHI's history. Their men are being held prisoner in a horrific nightmare dimension, and the only way to reach them is through the radioactive ruins of a monster-infested war zone.

As if that wasn't bad enough, it's also the home base of the powerful creature behind the devastating attacks on the Last Dragon and Copper Lake. It turns out ancient gods of chaos really hate trespassers. But this god picked a fight with the wrong crew, and now MHI wants payback. Calling on their allies, a massive expedition is formed, and with the odds stacked against them, a legion of hunters goes to war.

It's D-Day at the City of Monsters.

About: Monster Hunter Siege:

"Correia's latest slugfest between men and demons covers all the bases: heavy-duty weaponry, slick military banter, humor, tough evil dudes, and a strong-jawed hero who's ready to save the world."—Publishers Weekly

About Larry Correia's Monster Hunter series:

"…once it grabs a hold of you it can be a tough fight to put [it] down." –iGeekOut

"[A] no-holds-barred all-out page turner that is part science fiction, part horror, and an absolute blast to read."—Bookreporter.com

"If you love monsters and action, you'll love this book. If you love guns, you'll love this book. If you love fantasy, and especially horror fantasy, you'll love this book."—Knotclan.com

"A gun person who likes science fiction—or, heck, anyone who likes science fiction—will enjoy [these books]…The plotting is excellent, and Correia makes you care about the characters…I read both books without putting them down except for work…so whaddaya waitin' for? Go and buy some…for yourself and for stocking stuffers."—Massad Ayoob

"This lighthearted, testosterone-soaked sequel to 2009's Monster Hunter International will delight fans of action horror with elaborate weaponry, hand-to-hand combat, disgusting monsters, and an endless stream of blood and body parts."—Publishers Weekly

About Larry Correia:

"[E]verything I like in fantasy: intense action scenes, evil in horrifying array, good struggling against the darkness, and most of all people—gorgeously flawed human beings faced with horrible moral choices that force them to question and change and grow."—Jim Butcher on Son of the Black Sword

The Monster Hunter Series
Monster Hunter International
Monster Hunter Vendetta
Monster Hunter Alpha
Monster Hunter Legion
Monster Hunter Nemesis
Monster Hunter Siege
Monster Hunter Memoirs: Grunge

The Monster Hunters
(Omnibus contains Monster Hunter International, Monster Hunter Vendetta, and Monster Hunter Alpha)
About the Author
---
Larry Correia is the creator of the Wall Street Journal and New York Times best-selling Monster Hunter International series, with first entry Monster Hunter International; as well as urban fantasy hardboiled adventure saga The Grimnoir Chronicles, with first entry Hard Magic; and epic fantasy series The Saga of the Forgotten Warrior, with first entry Son of the Black Sword. He is an avid gun user and advocate who shot on a competitive level for many years. Before becoming a full-time writer, he was a military contract accountant, and a small business accountant and manager. Correia lives in Utah with his wife and family.