I Am Malala: The Girl Who Stood Up for Education and Was Shot by the Taliban (CD-Audio)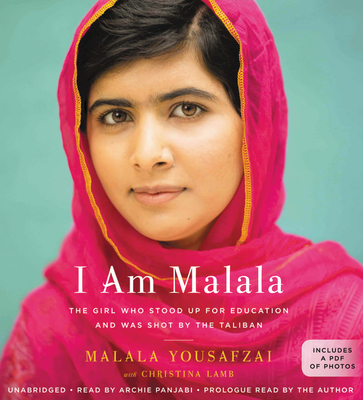 Description
---
A MEMOIR BY THE YOUNGEST RECIPIENT OF THE NOBEL PEACE PRIZE

As seen on Netflix with David Letterman
"I come from a country that was created at midnight. When I almost died it was just after midday."

When the Taliban took control of the Swat Valley in Pakistan, one girl spoke out. Malala Yousafzai refused to be silenced and fought for her right to an education.

On Tuesday, October 9, 2012, when she was fifteen, she almost paid the ultimate price. She was shot in the head at point-blank range while riding the bus home from school, and few expected her to survive.

Instead, Malala's miraculous recovery has taken her on an extraordinary journey from a remote valley in northern Pakistan to the halls of the United Nations in New York. At sixteen, she became a global symbol of peaceful protest and the youngest nominee ever for the Nobel Peace Prize.

I AM MALALA is the remarkable tale of a family uprooted by global terrorism, of the fight for girls' education, of a father who, himself a school owner, championed and encouraged his daughter to write and attend school, and of brave parents who have a fierce love for their daughter in a society that prizes sons.

I AM MALALA will make you believe in the power of one person's voice to inspire change in the world.
About the Author
---
Malala Yousafzai, the educational campaigner from Swat Valley, Pakistan, came to public attention by writing for BBC Urdu about life under the Taliban. Using the pen name Gul Makai, she often spoke about her family's fight for girls' education in her community.

In October 2012, Malala was targeted by the Taliban and shot in the head as she was returning from school on a bus. She miraculously survived and continues her campaign for education.

In recognition of her courage and advocacy, Malala was awarded the Nobel Peace Prize in 2014, becoming the youngest-ever recipient at just seventeen years of age. She was also honored with the National Youth Peace Prize in Pakistan in 2011 and the International Children's Peace Prize in 2013, and she was short-listed for Time magazine's Person of the Year.

Malala continues to champion universal access to education through the Malala Fund, a non-
profit organization investing in community-led programs and supporting education advocates around the world.




Christina Lamb is one of the world's leading foreign correspondents. She has reported on Pakistan and Afghanistan since 1987. Educated at Oxford and Harvard, she is the author of five books and has won a number of awards, including Britain's Foreign Correspondent of the Year five times, as well as the Prix Bayeux-Calvados, Europe's most prestigious award for war correspondents. She currently works for the Sunday Times and lives in London and Portugal with her husband and son.
Praise For…
---
"The touching story will not only inform you of changing conditions in Pakistan, but inspire your rebellious spirit."—Matthew Love, Time Out New York

"Ms. Yousafzai has single-handedly turned the issue of the right of girls-and all children-to be educated into headline news. And she is a figure worth hearing."—Isabel Berwick, The Financial Times

"Wise beyond her years...."—Annie Gowen, Marie Claire

"Riveting.... Co-written with Christina Lamb, a veteran British journalist who has an evident passion for Pakistan and can render its complicated history with pristine clarity, this is a book that should be read not only for its vivid drama but for its urgent message about the untapped power of girls.... It is difficult to imagine a chronicle of a war more moving, apart from perhaps the diary of Anne Frank. With the essential difference that we lost that girl, and by some miracle, we still have this one."—Marie Arana, Washington Post

"Remarkable...a must-read, first-person account of her journey through global terrorism, her brave, encouraging parents, and her own fight for girls' education."—MarieClaire.com

"The victory of Malala Yousafzai is that she's just getting started."—Mary Elizabeth Williams, Salon

"Briskly written but full of arresting detail.... Striking [and] surprising..."—Jill Lawless, Associated Press

"Ms. Yousafzai's stature as a symbol of peace and bravery has been established across the world..."—Salman Masood, The New York Times

"Not only has Malala Yousafzai become an international symbol of inspiration and bravery, but her survival instilled educators with courage-and is slowly helping make Pakistani schools safer."—Nick Schifrin, ABC.com

"For a teenage girl in a distant corner of the globe to spark life into this movement-against overwhelming odds-is truly extraordinary. The world must not allow Malala's message to die."—Dallas Morning News

"Her powerful message remains undiluted."—Tina Jordan, Entertainment Weekly

"In simple, clear writing, I AM MALALA gives a rare and moving first-person glance into what it's like to be a teenager in a country seized by extremists who stand against the basic freedoms you believe in."—Krystin Arneson, Bustle

"Malala matters....In her modesty and dignity, she should be Islam's beloved daughter, her journey a return to the early promise of Muslim modernism."—Fouad Ajami, New York Post

"Incredibly inspirational.... Malala is intelligent and fiery with dreams of changing the world, but the book has the added benefit of being a true story that is easily interwoven with important global issues such as human rights, development, education, and peace.... If there is one thing that I AM MALALA should teach us, it is to look beyond Manichean narratives of good and evil. It is important to applaud Malala for the awareness she has built around important issues like education for young women."—Cristina Maza, PolicyMic

"Riveting.... [Malala's] clear voice [is] beautifully captured by Lamb."—Rafia Zakaria, Ms. Magazine

"A gripping story.... What makes this book so important is not just the universal value of Malala's cause.... It's the relevance of her story to one of the most vexing security questions in today's crazy world...."—Trudy Rubin, Philadelphia Inquirer

"An inspiring, clearly written memoir that offers a glimpse of an extraordinary young woman and the confounding world from which she comes."—Karen Sandstrom, Cleveland Plain Dealer

"One hears some ghosts of Anne Frank in reading I AM MALALA, the flightiness, effervescence and, well...girlishness of an adolescent girl flung once again the indifferent violence of inhuman men, like flowers hurled against a stone wall."—Leonard Pitts Jr., Miami Herald

"An eye-opener in the fight for girls' education equality."—More

"The voice that beams, 'I am Malala' is the voice that continues to meet the assassin's challenge. It is the voice of a courageous campaigner who still fights for girls' education. The voice of an icon who may one day be able to return to her country, but who even from afar symbolizes its noblest cause."—Shehryar Fazli, Los Angeles Review of Books

"A story for each and every girl who chooses to break societal taboos, challenge the clergy, declare war against illiteracy and believe in the power of the pen."—Daud Khattak, Newark Star Ledger

"[A] vivid autobiography.... Yousafzai possesses an eloquence beyond her years, but her touching asides drive home the fact that she's also very much a 16-year-old girl.... Captivating and surprisingly personal."—Erika W. Smith, Bust

"Like millions around the world, I draw strength from brave Malala's example.... Malala is a testament that women everywhere will not be intimidated into silence. We will make our voices heard."—Gabrielle Giffords, Time magazine's "TIME 100"