Belonging: A German Reckons with History and Home (Paperback)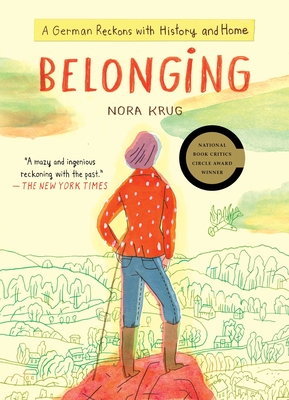 $22.00

Usually Ships in 1-5 Days
Description
---
* Winner of the National Book Critics Circle Award * Silver Medal Society of Illustrators *

* Named a Best Book of the Year by The New York Times, The Boston Globe, San Francisco Chronicle, NPR, Comics Beat, The Milwaukee Journal-Sentinel, Kirkus Reviews, and Library Journal

This "ingenious reckoning with the past" (The New York Times), by award-winning artist Nora Krug investigates the hidden truths of her family's wartime history in Nazi Germany.

Nora Krug was born decades after the fall of the Nazi regime, but the Second World War cast a long shadow over her childhood and youth in the city of Karlsruhe, Germany. Yet she knew little about her own family's involvement; though all four grandparents lived through the war, they never spoke of it.

After twelve years in the US, Krug realizes that living abroad has only intensified her need to ask the questions she didn't dare to as a child. Returning to Germany, she visits archives, conducts research, and interviews family members, uncovering in the process the stories of her maternal grandfather, a driving teacher in Karlsruhe during the war, and her father's brother Franz-Karl, who died as a teenage SS soldier. In this extraordinary quest, "Krug erases the boundaries between comics, scrapbooking, and collage as she endeavors to make sense of 20th-century history, the Holocaust, her German heritage, and her family's place in it all" (The Boston Globe). A highly inventive, "thoughtful, engrossing" (Minneapolis Star-Tribune) graphic memoir, Belonging "packs the power of Alison Bechdel's Fun Home and David Small's Stitches" (NPR.org).
About the Author
---
Nora Krug's drawings and visual narratives have appeared in The New York Times, The Guardian, and Le Monde diplomatique. Her short-form graphic biography, Kamikaze, about a surviving Japanese WWII pilot, was included in the 2012 editions of Best American Comics and Best American Nonrequired Reading. She is the recipient of fellowships from the Maurice Sendak Foundation, Fulbright, the John Simon Guggenheim Memorial Foundation, the Pollock-Krasner Foundation, and of medals from the Society of Illustrators and the New York Art Directors Club. She is an associate professor at Parsons School of Design in New York and lives in Brooklyn with her family. Krug is the author of the graphic memoir, Belonging.
Praise For…
---
"A mazy and ingenious reckoning with the past … Krug is a tenacious investigator, ferreting out stories from the wispiest hints — a rumor or a mysterious photograph … Even as she fills in the missing details, the stories are left open-ended; there is no rush to condemn or redeem, merely to get as close to the truth as possible … The wisdom of this book is that it does not claim to [wash away stains, mend scars, make whole.] The notion of 'consolation' is one I suspect Krug would regard with suspicion. What she seems in pursuit of is a better quality of guilt … That's where honor seems to lie, this book suggests: in the restless work of remembering, in the looking again, the recalibration and the revision. In getting the whole picture, and getting it right."
—New York Times

"In this evocative graphic memoir, Krug wrestles with her family's ties to Nazi Germany and the weight of that history."
—Time, 10 Best Nonfiction Books, Honorable Mention

"Krug has written a thoughtful, engrossing graphic novel that is part scrapbook, part memoir, delving deep into her family's history and trying to find blame or exoneration. In the process, she tells the story of an entire generation."
—Minneapolis Star-Tribune, Best of 2018

"In her extraordinary graphic memoir [Belonging], Krug dissects antisemitism in her own family's history and Germany's national guilt over the Holocaust – and the country's recent far-right backlash. … The curious appeal of Krug's graphic memoir is that it never fully loses itself in the act of storytelling but constantly stops to turn over and reassess the means at its disposal."
—The Guardian

"Remarkable."
—The Observer

"A highly original and powerful graphic novel that works on many levels. … a book that is as informative as a history and as touching as a novel."
—Financial Times

"Belonging suggests that the only way to authentic reckoning is through our own shame…Krug does not perform condemnation, but she lets story work through juxtaposition…shame and love [are] bound, ever next to each other in Krug's family inheritances…Reading Belonging was like reading my own history's shadow. Krug is not looking for heroes or villains. She does not recount the past to ask for pity or pardon, but so she can walk into a new life, as unbroken and unburdened as possible."
—Moment

"Pick up Nora Krug's reverberant graphic memoir, Belonging, and be prepared to lose yourself for hours in this unstinting investigation into her conflicted feelings about being German and her family's role in the Holocaust. In its searching honesty and multi-layered, visual and verbal storytelling, it packs the power of Alison Bechdel's Fun Home and David Small's Stitches… Krug writes about mending and reparations, but she doesn't let herself—or readers—lapse into complacence."
—NPR.org

"In her profound and dense illustrated memoir Belonging: A German Reckons With History And Home, illustrator Nora Krug examines her national identity and her family's history to try to explain why Germans are the way they are by delving into the Hitler-era questions she has about her own family ... Krug's book is as valuable as it is personable, a reminder that humans are the ones living through history and that their lives seldom live up to the binary demands of our right or wrong way of thinking."
—Comics Beat

"Radical … a dedication, not a reckoning, but one that doesn't avoid horror in the slightest. … accessible and complex at the same time."
—Berliner Zeitung

"[Nora Krug's] graphic memoir is more of a graphic statement, a snapshot not only of her own family history, but also of the reality of possibilities for any type of storytelling about cultural heritage."
—Frankfurter Allgemeine Zeitung

"One of the most peculiar books I've ever held in my hands. … an intelligent, visually wonderfully opulent picture book for adults. … [Belonging] by Nora Krug represents a form of self-ascertainment, of finding one's position, and a moral compass. Nora Krug's autobiographical search for traces is differentiated, intelligent and sublime, both in its images and in its words, and she thus creates the possibility of the book itself becoming a Heimat."
—ARD Druckfrisch

"A great piece of art with a great narrative power."
—SWR2 Lesenswert Quartett

"A masterpiece of a narrative – as touching as a novel, as deep as a non-fiction book."
—Stern

"Deeply personal—and deeply moving ... As multilayered as memory, the book intertwines text, photo, graphic art, and thematic complexity into a revelation almost as powerful for readers as it must have been for the author."
—Kirkus Reviews, starred review

"Lush as it is meticulous ... This work of stunning craftmanship stands as a testament to speaking out as a necessary first step to healing."
—Publishers Weekly

"A deep and affecting mix of text and illustration."
—Booklist

"Nora Krug has created a beautiful visual memoir of a horrific time in history. A time that torments us to this day. Asking questions and searching for the truth, she will not turn away from the legacy of her family and her country. She asks the question of how any of us survive our family history. Ultimately, the only course is not to veil the answers."
—Maira Kalman, author of Beloved Dog and My Favorite Things

"Belonging is an astoundingly honest book that conducts a devastating—and irresistible—investigation into one family's struggle with the forces of history. I could not stop reading it, and when I was done, I could not stop thinking about it. By going so deeply into her family's history, Krug has in some ways written about us all."
—Sebastian Junger, author of The Perfect Storm and Tribe

"To belong to a place is not to be able to choose what it takes from you. But we can choose what we take from it. Nora Krug takes from her German homeland, and then gives to us, a sense of what it is like to be German today, and a guide to how a reckoning with the past can begin."
–Tim Snyder, author of On Tyranny and The Road to Unfreedom

"A page-turning scrapbook/collage of memory, meaning and accountability, Ms. Krug draws the reader through her family history with the directness of imagery, handwriting and, ultimately, a disquieting direness that has echoes in our American life, right now. Belonging is valuable, readable and, needless to say, highly recommended."
—Chris Ware, author of Building Stories

"As the Jewish heir of grandparents who themselves had to flee the upsurge of fascism in their German homelands, I found granddaughter Nora Krug's heartrending investigation of her own family's painstakingly occluded history through those years especially moving. But as an American living through these, our very own years of a seemingly inexorable drift into one's still not quite sure what, I found Krug's achingly realized graphic memoir downright unsettling, for what will our own grandchildren one day make of us and our own everyday compromises and failures to attend?"
—Lawrence Weschler, author, among others, of Calamities of Exile and A Miracle, A Universe: Settling Accounts with Torturers

"Belonging is a heart wrenching, suspenseful and fascinating odyssey that straddles, and seeks to uncover, an uncharted, inaccessible, unfathomable past. It is a kaleidoscope of interrupted lives, leading inexorably to its ultimate conclusion. I couldn't stop reading it."
—Hava Beller, writer and director of The Restless Conscience