How Champions Think: In Sports and in Life (Paperback)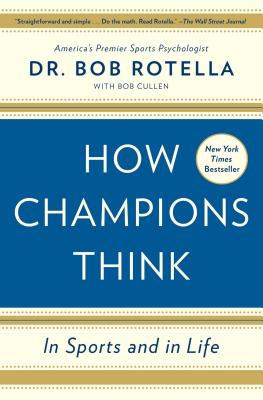 $17.99

Usually Ships in 1-5 Days
Description
---
This New York Times bestselling, groundbreaking guide to success from America's preeminent sports psychologist is "so good that this reviewer has recommended it to all, golfers and non-golfers alike" (Library Journal, starred review).

Acclaimed sports psychologist Bob Rotella has advised everyone from professional golfers to NBA superstars to business executives on how to flourish under pressure and overcome challenges. "Rotella's philosophy is astonishingly simple…his success rate…is phenomenal" (The New York Times). Now, for the first time, he's distilled his decades of in-depth research and practical experience into a potential-unlocking guide for everyone, from businesspeople to athletes to parents.

Most psychology is focused on trying to make abnormal people normal. Bob Rotella's work is to make normal people exceptional. "Intriguing and persuasive" (Publishers Weekly), How Champions Think takes readers inside the minds of winners in many fields. It explores how to keep the mind from holding you back, whatever your physical gifts or other talents. It's about how to make a commitment, how to persevere, how to deal with failure. It's about how to train your mind to create a self-image that promotes confidence and accomplishment.

Any successful life starts with how you see yourself. And with these pearls of wisdom from the nation's preeminent sports psychologist, you can learn to achieve the success of your dreams. "Straightforward and simple...Do the math. Read Rotella" (The Wall Street Journal).
About the Author
---
Dr. Bob Rotella is the bestselling author of a dozen books, including Golf Is Not a Game of Perfect, The Unstoppable Golfer, and How Champions Think. He was the director of sport psychology for twenty years at the University of Virginia, where his reputation grew as the expert champions talked to him about the mental aspects of their game. Rotella was a consultant multiple times to the United States Ryder Cup Team. His golf client list includes Hall of Famers Pat Bradley, Tom Kite, Davis Love III, and Nick Price, as well as many of today's stars, such as Justin Thomas, Darren Clarke, Jim Furyk, Padraig Harrington, Brad Faxon, and Rory McIlroy. A long-time consultant to Golf Digest, he lives in Virginia with his wife, Darlene.

Bob Cullen is the co-author, with Dr. Bob Rotella, of Golf Is Not a Game of Perfect and other best-selling works on the mental game. A former contributing editor at Travel & Leisure Golf, he has reported on courses from datelines as diverse as Slovenia, Kazakhstan, Russia, and Iran.
Praise For…
---
"Having counseled such sports stars as LeBron James and PGA great Hal Sutton, sports psychologist Rotella extends his sports-centric guidance to those seeking to enhance their everyday acumen through the power of focused positive thinking….A solid motivational text for the sports-minded and thoseinterested in the bridging of athletics and exceptionalism." —Kirkus Reviews

"Intriguing and persuasive….Though Rotella's primary concern here is with the very successful, "ordinary" people should also find useful tips here for smoothly handling life's challenges and opportunities." —Publishers Weekly

"The author is, unquestionably, the premier mental coach for golf, having worked with Darren Clarke and Keegan Bradley as well as athletes in other sports, along with business executives…What makes golf an interesting metaphor is that even the truly luminary succeed, but only a fraction of the time. Rotella emphasizes the importance of goals-setting and the discipline that is required to achieve those aims….[How Champions Think is] so good that this reviewer has recommended it to all,golfers and non-golfers alike." —Library Journal (starred review)

"Rotella's philosophy is astonishingly simple . . . [and] probably owes more to Vince Lombardi than it does to Sigmund Freud. . . . Rotella has counseled a dozen athletic teams and organizations (the New Jersey Nets, for one), the employees of some twenty corporations—among them Merrill Lynch, General Electric, and Time Warner—and assorted individuals, including a tennis champion trying to make a comeback and a musician with a bad case of stage fright. . . . Though Rotella's tips are undeniably useful, they cannot account for his success rate, which is phenomenal." —The New York Times

"Straightforward and simple...Do the math. Read Rotella." —The Wall Street Journal