Get What's Yours: The Secrets to Maxing Out Your Social Security (The Get What's Yours Series) (Hardcover)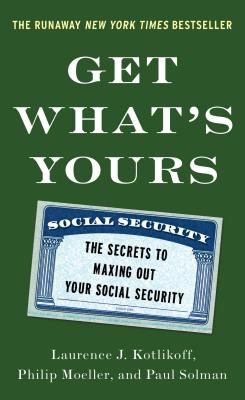 $19.99
Email or call for price
Description
---
Social Security law has changed! Key secrets may require action before April 30, 2016. If you or your spouse turns 66 by then, you should read this book, and everyone should read updates on the authors' website, GetWhatsYours.org.

But even with the law changes, the book explains numerous secrets to maximizing your Social Security benefits that you can't get anywhere else. And above all, Get What's Yours explains the lifetime payoff from waiting as long as possible.

To navigate the forbidding maze of Social Security and emerge with the highest possible benefits, you could try reading all 2,728 rules of the Social Security system (and the thousands of explanations of these rules). But Kotlikoff, Moeller, and Solman do the navigating for you, explaining Social Security benefits in an easy to understand and user-friendly style. What you don't know can seriously hurt you: wrong decisions about which Social Security benefits to apply for cost some individual retirees thousands in lost income every year.

Get What's Yours covers the most frequent benefit scenarios faced by married retired couples, by divorced retirees, by widows and widowers, among others. It explains what to do if you're a retired parent of dependent children, disabled, or an eligible beneficiary who continues to work, and how to plan wisely before retirement. It addresses the tax consequences of your choices, as well as the financial implications for other investments.

Many personal finance books briefly address Social Security, but none offers the thorough, authoritative, yet conversational analysis found here.
About the Author
---
Laurence J. Kotlikoff is a professor of economics at Boston University and president of Economic Security Planning, Inc. His company websites are ESPlanner.com and MaximizeMySocialSecurity.com. To learn more, visit GetWhatsYours.org.

Journalist Philip Moeller writes about retirement for Money and authors the Ask Phil Medicare column for PBS. He also is a Research Fellow at the Center on Aging & Work at Boston College and the founder of Insure.com, a leading site for insurance information.

Paul Solman is the business and economics correspondent for the PBS NewsHour and is a Brady-Johnson Distinguished Practitioner in Grand Strategy at the International Security Studies department at Yale University.
Praise For…
---
"Getting smart about Social Security can put tens of thousands of extra dollars in your pocket. With that in mind, start by reading, Get What's Yours. . . . The book translates—into often-entertaining English—the many convoluted rules that make up the Social Security program. . . . [Does] a great job of helping you make sense of, and get the most from, Social Security. . . . Invaluable."
— Glenn Ruffenach

"An indispensable and surprisingly entertaining guide for anyone who is retiring or thinking of retiring with all of the Social Security benefits they've earned."
— Jane Pauley

"Choosing when to take Social Security is one of the biggest decisions of your life. By doing it right, you can add hundreds of thousands of dollars to your lifetime income and leave more money for your spouse as well. This great book tells you how . . . and it's funny, too!"
— Jane Bryant Quinn, author of Making the Most of your Money NOW

"Social Security is the biggest source of retirement income for many Americans . . . that just means that [Get What's Yours]'s tricks and tips will be ever more relevant. . . . Given that there are 2,728 core rules and thousands more supplements to them according to the authors, it pays, literally, to seek out a guide."
— Ron Leiber

"I love this book! Seriously! Who could ever guess that reading about Social Security could be this entertaining? And if you think you know enough about the subject, you would be wise to think again. Smartly written by an all-star, financial expert dream team, the engaging, down-to-earth prose makes Get What's Yours the definitive guide to maximizing what is, for many, the most important retirement asset by far. From determining the best age to claim (hint: it's not what you've been told) to figuring out the intricacies of spousal benefits to avoiding the 'gotchas' that can reduce your checks, this must-read guide is truly that. And don't be surprised if you actually enjoy it!"
— Beth Kobliner, author of Get a Financial Life

"[Goes] a long way in educating the public and financial advisers about this important lifetime benefit. Get What's Yours is a fun read for advisers with a slightly snarky tone that puts the absurdity of the program's more than 2,800 rules into perspective."
— Mary Beth Franklin

"The Social Security system has 2,728 core rules. You can't be expected to learn them on your own, and you can't depend on Social Security staff members to guide you through them to make the right decisions. Use a financial planner with expertise in Social Security, or read and reread an excellent book such as Get What's Yours, to make the decisions that will provide you and your family with the most benefits."
— Elliot Raphaelson

"[A] can't-miss guide to the system. . . . Clear enough for even the most intimidated reader, with a concluding cheat sheet helpfully summing up the book's suggestions. The authors' palpable fervor to help readers get back what they've paid will energize readers to claim what is rightfully theirs."
— Publishers Weekly

"Just what we need: a clear explanation of how Social Security works—and how to get the highest benefits—without reading all 2,728 rules of the Social Security system."
— Library Journal