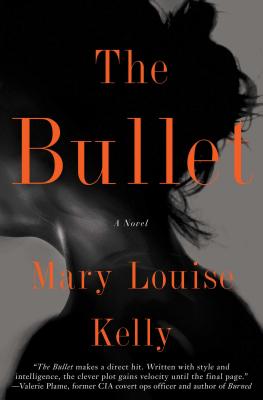 for information about purchasing this book, please contact orders@bookpassage.com
Description
---
From former NPR correspondent Mary Louise Kelly comes a heart-pounding story about fear, family secrets, and one woman's hunt for answers about the murder of her parents.

Two words: The bullet.

That's all it takes to shatter her life.

Caroline Cashion is beautiful, intelligent, a professor of French literature. But in a split second, everything she's known is proved to be a lie.

A single bullet, gracefully tapered at one end, is found lodged at the base of her skull. Caroline is stunned. It makes no sense: she has never been shot. She has no entry wound. No scar. Then, over the course of one awful evening, she learns the truth: that she was adopted when she was three years old, after her real parents were murdered. Caroline was there the night they were attacked. She was wounded too, a gunshot to the neck. Surgeons had stitched up the traumatized little girl, with the bullet still there, nestled deep among vital nerves and blood vessels.

That was thirty-four years ago.

Now, Caroline has to find the truth of her past. Why were her parents killed? Why is she still alive? She returns to her hometown where she meets a cop who lets slip that the bullet in her neck is the same bullet that killed her mother. Full-metal jacket, .38 Special. It hit Caroline's mother and kept going, hurtling through the mother's chest and into the child hiding behind her.

She is horrified—and in danger. When a gun is fired it leaves markings on the bullet. Tiny grooves, almost as unique as a fingerprint. The bullet in her neck could finger a murderer. A frantic race is set in motion: Can Caroline unravel the clues to her past, before the killer tracks her down?
About the Author
---
Mary Louise Kelly has written two novels, The Bullet and Anonymous Sources, and spent two decades traveling the world as a reporter for NPR and the BBC. As an NPR correspondent covering the intelligence beat and the Pentagon, she has reported on wars, terrorism, and rising nuclear powers. A Georgia native, Kelly was educated at Harvard and at Cambridge University in England. She lives in Washington, DC, with her husband and their two children. Learn more at MaryLouiseKellyBooks.com.
Praise For…
---
"Kelly's years as a political writer and intelligence correspondent covering wars, terrorism and nuclear powers have served her well, and she portrays James with authority in a smart, fun voice that will stir lust and envy among readers. The author leaves open a window on the final page that suggests a sequel, much to the reader's delight."
— Publishers Weekly

"Mystery and thriller readers will happily delve into this fast-paced story featuring a feisty protagonist whom one hopes will have further adventures."
— Library Journal

"In Mary Louise Kelly's entertaining new novel, a smart, sexy reporter wanders into the midst of a truly scary terrorist plot. In the manner of an Alfred Hitchcock thriller, Kelly's heroine has to outfox the conspirators to escape. This book is great fun, from beginning to end."

— David Ignatius, columnist for The Washington Post and author of Bloodmoney

"One of the most genuinely chilling plots I've ever read. A scenario that will haunt anyone who's ever read a newspaper. I couldn't put this book down."
— Allison Leotta, author of Speak of the Devil

"Mary Louise Kelly's The Bullet is right on target with a riveting, twisty tale of a woman whose search for her own identity leads her to seek vengeance against the killer who stole it from her."
— Hallie Ephron, author of NIGHT NIGHT, SLEEP TIGHT

"With an extremely likable narrator and twists and turns galore, The Bullet is at once a thriller, a medical mystery, and a study of how well we really know the people we love."
— Alice LaPlante, author of TURN OF MIND

"Mary Louise Kelly's The Bullet has an irresistible hook and a run of fantastic twists that pulls you breathlessly through to the last pages where all is revealed with a sure, steady hand. It's having your cake and closure too—and it's very satisfying. I'd kind of like a time machine so that I could have the wonderful premise of this book for my own!"
— Jamie Mason, author of THREE GRAVES FULL and MONDAY'S LIE

"The Bullet makes a direct hit. Written with style and intelligence, the clever plot gains velocity until the final page."
— Valerie Plame, former CIA covert ops officer and author of BURNED

"Nonstop pacing, a touch of romance, and a heroine who's full of surprises combine to create great thriller escapism for the Harlan Coben set."
— Booklist Online

"Kelly pulls off the difficult feat of plotting an action-packed page-turner that remains within the bounds of believability."
— Publishers Weekly
Coverage from NPR