Cooking as Fast as I Can: A Chef's Story of Family, Food, and Forgiveness (Hardcover)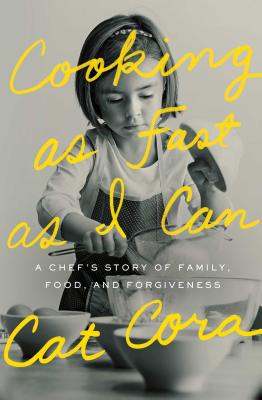 for information about purchasing this book, please contact orders@bookpassage.com
Description
---
Remarkably candid, compulsively readable, renowned chef Cat Cora's no-holds-barred memoir on Southern life, Greek heritage, same sex marriage, and the meals that have shaped her memories.

Before she became a celebrated chef, Cathy Cora was just a girl from Jackson, Mississippi, where days were slow and every meal was made from scratch. Her passion for the kitchen started in her home, where she spent her days internalizing the dishes that would form the cornerstone of her cooking philosophy incorporating her Greek heritage and Southern upbringing—from crispy fried chicken and honey-drenched biscuits to spanakopita. But outside the kitchen, Cat's life was volatile.

In Cooking as Fast as I Can, Cat Cora reveals, for the first time, coming-of-age experiences from early childhood sexual abuse to the realities of life as a lesbian in the deep South. She shares how she found her passion in the kitchen and went on to attend the prestigious Culinary Institute of America and apprentice under Michelin star chefs in France. After her big break as a co-host on the Food Network's Melting Pot, Cat broke barriers by becoming the first-ever female Iron Chef.

Cooking as Fast as I Can chronicles the difficulties and triumphs Cora experienced on the path to becoming a chef. She writes movingly about how she found courage and redemption in the dark truths of her past and about how she found solace in the kitchen and work, how her passion for cooking helped her to overcome hardships and ultimately find happiness at home and became a wife and a mother to four boys. Above all, this is an utterly engrossing story about the grit and grace it takes to achieve your dreams.
About the Author
---
Cat Cora grew up in Jackson, Mississippi, and attended the Culinary Institute of America and worked in New York City before travelling overseas to apprentice in Europe with world-renowned French chefs Georges Blanc and Roger Vergé. She settled in Napa Valley in her first job as a chef. After The Food Network discovered her in 1999, she went on to become the first female Iron Chef for the Network. She is the founder of the charitable organization Chefs for Humanity, a grassroots organization that mobilizes chefs to lend their skills to communities in need, and she has built a brand that includes two food lines, cookware a shoe line, cookbooks and restaurants, in Orlando, Costa Mesa, Houston, Salt Lake City, San Francisco, Atlanta, and Singapore. She lives in Santa Barbara.
Praise For…
---
"In Cooking as Fast as I Can, Cat Cora courageously shares how her passion for cooking helped her to triumphantly break through barriers her life. It is a must-read for those in search of true happiness."
— Deepak Chopra, author of "The Seven Spiritual Laws of Success"

"Cat's story is not only a riveting tale of adoption and anamazing read about a chef coming into her own. It's also delicious, sticky, andsweet—the kind of story that makes you want to go back for seconds."
— Marcus Samuelsson, author of the "New York Times" bestseller "Yes, Chef"

"Cooking as Fast as I Can is honest, ballsy,relatable, and inspiring. And it's a fun read. I'd expect nothingless from Cat."
— Gabrielle Reece, "New York Times" bestselling author of "My Foot is Too Big for the Glass Slipper" and "Big Girl in the Middle"

"Cat Cora's intimate memoir chronicles the surprising story of how she became one of the most accomplished and recognizable female chefs in the world. Her story teems with valuable life lessons and more than a few wild adventures, both in and out of the kitchen. A testament to Cora's unwavering positivity, work ethic, and inner strength, Cooking as Fast as I Can is juicy, raw, and satisfying to the very last bite."
— Gail Simmons, food expert, TV host and author of "Talking With My Mouth Full"

"Cooking as Fast as I Can shows us the grit and perseverance it takes to succeed, not only in the food industry but in all aspects of life. No one achieves success without overcoming heartbreaking obstacles, and we get to learn how Cat Cora overcame all of hers with tenacity and optimism, in her compelling,page-turning, mouthwatering memoir."
— Regina Calcaterra, "New York Times" bestselling author of "Etched in Sand"

"Cooking as Fast as I Can is an inspiration—a wake-up call to those who believe that the professional kitchen is a man's domain. Cooking, like life, is not about sex, stature, age or orientation. It's about working hard, which Cat Cora has done since the beginning."
— Michael Gibney, author of "Sous Chef: 24 Hours on the Line"

"From the family kitchens of her Southern childhood to the world-renowned restaurants where she cut her teeth, Cat Cora shows us how, through chutzpah and drive, she became one of the most recognizable chefs in the country. Cooking as Fast as I Can is a fascinating and frank memoir about the grit it takes to succeed in the culinary world."
— Michael Ruhlman, author of "The Soul of a Chef," "Charcuterie," and "Ruhlman's Twenty"

"Cooking as Fast as I Can is authentic and inspiring and written with a sometimes heart-wrenching transparency. It's filled with important truths about the gift of cooking and the blessing of courage and the strength required to forgive."
— Kyra Phillips, author, anchor & correspondent, CNN, Documentary and Investigative Units

"Witty and faced paced... Cora has led an exceptional life, but it is her absorbing voice and eye for sensory detail and description that make this memoir succeed... Whether cooking at the White House or getting a DUI, Cora spares no detail, no matter how unflattering, and she reveals herself as endearingly fallible and human."

"Sure to please fans of chef memoirs such as Gabrielle Hamilton's Blood, Bones and Butter."

"A disarmingly candid look at the highs, lows, and true grit of a culinary star."

"This window into Cora's pre-Iron Chef life lets the reader follow her from Mississippi to New York to France and finally to California as she pursues her dream of becoming a head chef. Never shying from the ultrapersonal—she suffered childhood abuse and speaks openly about the difficulties of embracing her sexuality and raising four children—Cora presents her vulnerabilities in a way that humanizes her, despite the armor she's built to survive her cutthroat career."

"Affecting….as warm and comforting as a home-cooked meal."