Navel Gazing: True Tales of Bodies, Mostly Mine (but also my mom's, which I know sounds weird) (Hardcover)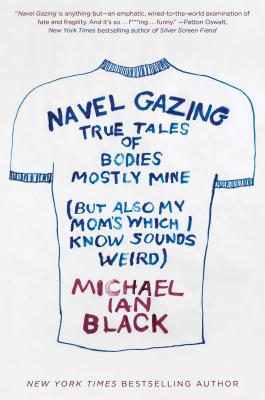 for information about purchasing this book, please contact orders@bookpassage.com
Description
---
New York Times bestselling author and stand-up comedian Michael Ian Black (author of A Child's First Book of Trump) delivers a "memorable and funny" (Kirkus Reviews) memoir about confronting his genetic legacy as he hits his forties.

Whether it's family history, religion, aging, or his parents, Michael Ian Black always has something to say in the dry, irreverent voice that has captured a fan base of millions. When a medical diagnosis forces him to realize he's not getting any younger, he reexamines his life as a middle-aged guy—of course, in the deadpan wit and self-deprecating vignettes that have become trademarks of his humor.

The alt-comedy take on getting older, Navel Gazing is a funny-because-it's-true memoir about looking around when you're forty and realizing that life is about more than receding hairlines and proving one's manliness on Twitter—it's about laughing at yourself.
About the Author
---
Michael Ian Black is a writer, comedian, and actor who has appeared on Another Period, The Jim Gaffigan Show, and Wet Hot American Summer: First Day of Camp. He created and starred in many television series, has written screenplays, and regularly tours the country as a stand-up comedian. Michael is the bestselling author of the book My Custom Van, the memoir You're Not Doing It Right, and the children's books Chicken Cheeks, The Purple Kangaroo, A Pig Parade Is a Terrible Idea, I'm Bored, Naked!, Cock-a-Doodle-Doo-Bop!, and I'm Sorry. Michael lives in Connecticut with his wife and two children.
Praise For…
---
"Set him on the recommended shelf beside Sedaris and Fey."
— Booklist

"It's funny and sad and ridiculous and searching and humane and the gravitas sneaks up on you, and the last page had me in tears."
— Elizabeth Gilbert, NYT bestselling author of Eat Pray Love

"Solid, sensitive, and often appropriately silly... Unlike many other books by comedians, this memoir never feels like a series of onstage routines transcribed to make a buck. Black's examination of the many meanings of being a middle-aged father, husband, and son is an insightful and eminently readable story."
— Publishers Weekly

"NAVEL GAZING is anything but -- an emphatic, wired-to-the-world examination of fate and fragility. And it's so...fucking...funny."
— Patton Oswalt

"Michael Ian Black asked me if I would provide a quote for his book and I said that I would."
— Ricky Gervais

"I don't know what's more gut wrenching - the tales of his mom's illness or the time he tried to start a punk band. This book is so touching, well-written, dare I say profound? Okay how about totally life affirming? These pages are so beautiful they don't deserve to also be fall down funny. Michael Ian Black is showing off. This book made me giggle wildly, then shook me with the reminder of mine and everyone's impending death, brought comfort, and then more giggles. And then in honor of Michael, I took a nap."
— Jen Kirkman, author of I CAN BARELY TAKE CARE OF MYSELF

"Black sustains a light touch throughout, projecting a warmth that extends from his relationship with his mother through his family life with wife and children."
— Kirkus Reviews

"All these years, Michael Ian Black has not gotten enough credit for what a good writer he is. This book is charming and good company and—best of all—amazingly honest. And really, really funny, of course—though you probably already guessed at that part."
— Ira Glass, This American Life

"Memorable and funny. . . . An amusing look at masculine insecurity and confusion."
—Kirkus Reviews

"This book is so frank, so full of amusingly embarrassing confessions, I should probably be giving Michael Black a hug instead of a blurb."
—Sarah Vowell, New York Times bestselling author and essayist

"It's no surprise that Michael Ian Black's book is hysterical. But I was surprised by how heartfelt and touching his memoir is. It's true: Michael Ian Black has emotions!"
—A.J. Jacobs, New York Times bestselling author of The Year of Living Biblically and The Know-It-All

"I loved My Custom Van. But I loved You're Not Doing It Right even more. Reading this book felt like taking a long road trip with Michael himself—which I've done. And I actually recommend the book more. Touching, hilarious, and truthful all at once. What else do you want, America?"
—Mike Birbiglia, New York Times bestselling author of Sleepwalk with Me

"Dear Michael Ian Black: please stop writing things in books that I wish I had written myself, it's starting to make me feel bad. Also, would you like to be friends someday? I sure would."
—Samantha Bee, senior correspondent on The Daily Show and author of I Know I Am But What Are You?

"Michael Ian Black is one of the finest comedy minds of our generation and a master at assembling words in a hilariously pleasing way. You would have to be a vapid crapsack not to enjoy this book."
—Chris Hardwick
— Praise for Michael Ian Black
Coverage from NPR