The Finch in My Brain: How I forgot how to read but found how to live (Hardcover)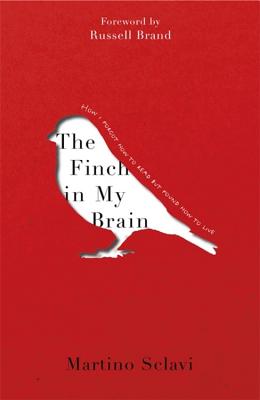 $28.99
Email or call for price
Description
---
'Whenever I see Martino I am reminded of how little I know about life and death compared to him. How we don't know what is within us or what may lie on the other side. I hope it's as magical and beautiful as this book.' RUSSELL BRAND

'...it represents some kind of miracle just by its ever having been written ... Sclavi's optimism shines through it.' TELEGRAPH

When film producer Martino Sclavi began experiencing intense headaches, he attributed them to his frenetic lifestyle. As it turned out, he had grade 4 brain cancer and was given 18 months to live. After undergoing brain surgery - while awake - Martino found he had lost the ability to recognise words.

His response was to close his eyes and begin to move his fingers across the keyboard to write this, an account of life before diagnosis and since. Defying all predictions Martino is still very much alive, words read out to him by the monotone of a computerised voice he calls Alex. But he must now live in a new way.

This book - that he has written but cannot read - charts the effects of his experience: on his relationship with his young son, his marriage, his work and with himself. In the wake of his illness, everything must be reconfigured and Martino is made to question the habits, dreams and beliefs of his old life and confront the present. What he finds is strange and beautiful.

Searching for the words between life and death, Sclavi shows that with determination and a subtle, persistent sense of humour, it is possible to change the story of our lives.
About the Author
---
At the age of 10, Martino Sclavi and his family moved from Rome to New York. Knowing little English, he spent his time in school learning to sew and type, skills that have now become essential. After studying political science, he moved to Berlin and played bass for a Krautrock band while at the Humboldt and Freie Universität. He completed his MA at Cambridge University, then moved to London where he mixed drinks in a bar in Brixton. After work, with his 35mm camera on his shoulder, he would wander the streets and tell the stories of his neighbourhood.

Sclavi became a producer for a variety of documentaries and films. He has previously written articles and screenplays, but The Finch in My Brain is the first project he has typed into his computer without being able to read it back.

Martino lives in London and Italy where he invents bedtime stories to carry his young son to his dreams.
Praise For…
---
'The Finch in my Brain is a memoir of startling originality, entirely devoid of self-pity. It's a love story, a meditation on mortality and a humorous rumination about adventures in the film world'—Penny Woolcock