Abundance: Nature in Recovery (Hardcover)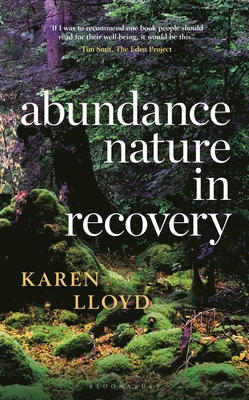 $25.00
Email or call for price
Description
---
In this new collection of literary essays, Karen Lloyd explores abundance and loss in the natural world relating compelling stories of restoration, renewal and rewilding and revealing how the people working on the front line of conservation are challenging the inevitability of biodiversity loss.

How should we restore nature and species, and why does it matter? What is lost when we choose not to engage in restoration and rewilding? And which parts of ourselves might we also lose if we choose not to help restore and renew the natural world before it's too late?

In this era of urgent ecological challenge, Karen Lloyd's timely book reveals the places that people are coming together to bring species and habitats back from the edge of extinction. In contrast, elsewhere, many other species are being allowed to disappear forever. To understand why this is, Karen examines how humans have chosen to entangle themselves in nature and considers the ways we perceive the natural world, contemplating why certain aspects of nature can hold our attention when we use others merely as temporary distractions.

Touching on many current themes, Lloyd explores attitudes towards meaningful conservation as she weaves her delightful narrative through a diverse range of inspiring landscapes, including Romania's Carpathian mountains, the Hungarian Steppe, the rivers of Perthshire, the dune forests of the Netherlands, and the rice paddies of Extremadura in southern Spain.
About the Author
---
Karen Lloyd is a writer of non-fiction and poetry. She has published two previous works of non-fiction, both published by Saraband. The Gathering Tide: A Journey Around the Edgelands of Morecambe Bay (2016) was selected by Katherine Norbury as her top read in the Observer Authors' Books of the Year. The Blackbird Diaries was published in 2017. Both won awards at The Lakeland Book of the Year Awards.

Karen edited and published Curlew Calling, An Anthology of Nature Writing, Poetry and Images in Celebration of Curlew, to raise funds for various curlew conservation projects including the British Trust for Ornithology's work. She is a contributor to the Guardian, BBC Wildlife and Countryfile magazines and the RGS amongst others.
Praise For…
---
"It is noteworthy for its impressive lyricism, the experimental nature of its format and for the philosophical richness and variety of its content." —Spectator

"If I was to recommend one book people should read for their well-being, it would be this." —Sir Tim Smit KBE, Co-founder, The Eden Project

"In Abundance, Karen offers engaging, thought-provoking writing and asks many questions which should open up the discussion of what we value in the world around us." —Cumbria Life

"Full of exuberant delight." —Spectator

"There's depth and skill as her writing moves from the prosaic to the lyric, all the time making the technical accessible. Scientific research fits comfortably alongside descriptions of birds and watercourses, and wider observations on our everyday successes and failures in living interdependently." —Cumbria Life

"Abundance is a little masterpiece carrying an important message. It is a visceral if elegant plea that happiness lies in knowing what you look at – like the colours in a tiny bird's eyes – where observation exists as the passport to truth. Lloyd's book holds out the gateway to a new world." —Sir Tim Smit KBE, Co-founder, The Eden Project

"Lloyd writes with such courageous attention it seems the least we can do is respond to her request to think differently, to imagine a world where abundance begets abundance. She paints the vision of a world full of animals living in harmony and asks, can humans learn to be one of them?" —Nicole Walker, author of Processed Meats: Essays on Food, Flesh and Navigating Disaster

"The essays in Abundance are characterised by an admirable urgency. Lloyd's is a voice for now. Her ways of seeing reel in not just the deep wounds at the heart of nature but also glimpse moments of hope, of healing. You want to know how to help nature to heal? Read this. Here's how." —Jim Crumley, author of The Last Wolf

"We live at a time when our writers need to challenge our apathy and call out our lack of ambition in restoring Britain's nature. Very few are willing to do so, but in Abundance, Karen Lloyd opens up new pathways to a reimagined relationship with the wild." —Peter Cairns, Executive Director, Scotland: The Big Picture