Psychology 101: The 101 Ideas, Concepts and Theories that Have Shaped Our World (Paperback)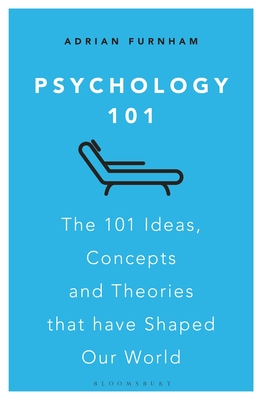 $22.00

Usually Ships in 1-5 Days
Description
---
Psychologists have always shone a torch, and often a spotlight, into many dark corners of the human mind. They study everything, from art preferences to altruism, coaching to criminality, jokes and humour to justice and honesty, as well as sex differences, schizophrenia and sociopathy.
Psychology can offer clear descriptions and explanations for all sort of phenomena. More importantly, psychological research can improve lives in a multitude of ways; many applied psychologists - e.g. clinical, educational, counselling and work psychologists – have the primary aim of making people more happy and better able to identify and realise their full potential.
Psychology 101 offers bite-size articles of psychological science from Adrian Furnham, a seasoned psychologist with a broad range of expertise. This book is the essential guide for anyone with an interest - either academic, professional or general - in demystifying and understanding the fascinating world of psychological history, theories, issues and beliefs.
About the Author
---
Adrian Furnham was Professor of Psychology at UCL, and is a renowned speaker on psychology issues in the workplace. He writes regularly for the FT, Sunday Times and the Daily Telegraph, and is a contributor to national and international radio and television (including BBC, CNN, and ITV). He currently has teaching roles at both the Norwegian Business School and Exeter Business School. He is the author of 92 books.