Making Culture Work: Changing the Cultural Blueprint of Organizations (Hardcover)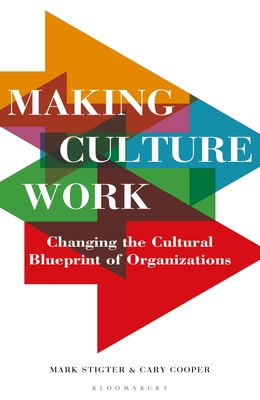 Description
---
A guide on how to change the cultural blueprint of your organization, providing a practical framework for changing multicultural elements for an overall cohesive cultural transformation.

A recent study by PwC found that 96% of executives and managers feel that culture change is needed within their organizations. The majority believe that their organization is in need of a major cultural overhaul, and almost half do not think their culture is being managed effectively.

Making Culture Work focuses on how to change the cultural blueprint of an organization, providing a practical framework for changing multi-cultural elements for an overall, cohesive cultural transformation. It is based on the first-hand experiences, observations and empirical research of Marc Stigter and Cary Cooper. It features first-hand interviews with C-suite executives of public, private and not-for-profit organizations in the UK, US, Australia and New Zealand. As established authors in the business field, Marc and Cary write in an engaging style, distilling academic research and decades of insight into practical and accessible guidance.
About the Author
---
Marc Stigter is an international strategist who works with organisations on unlocking critical commercial insights. He has gained his own experience as a global practitioner at executive level, a research academic at doctoral level, and a strategy advisor at organizational level. Marc is an Honorary Senior Fellow at the University of Melbourne's Graduate School of Business and Economics, and Associate Director at Melbourne Business School. He has held executive positions with blue-chip companies around the world, including Shell and Lloyds/TSB.

Sir Cary L. Cooper, CBE, is 50th Anniversary Professor of Organizational Psychology and Health at the ALLIANCE Manchester Business School, President of the British Academy of Management, President of RELATE and was the Founding Chair of the think tank The Sunningdale Institute in the National School of Government. He was the lead scientist on the Foresight project on Mental Capital and Wellbeing and has published over 125 books and many scholarly articles on organizational psychology and the workplace.