Afghan Air Wars: Soviet, US and NATO operations, 1979–2021 (Hardcover)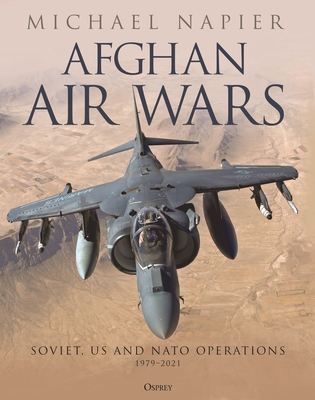 $40.00

Usually Ships in 1-5 Days
Description
---
Michael Napier details the critical role of air power in the skies over Afghanistan, from the ten-year occupation by the USSR in the 1980s through to the US and NATO campaign from 2001 to 2021.

US and British forces, strongly supported by air power, invaded Afghanistan in late 2001 in response to the Al Qaida attacks on 9/11. What began as a small-scale operation of 2,500 troops with the limited objective of destroying Al Qaida became ever larger, growing to over 100,000 troops ten years later. This experience matched that of the Soviets after their invasion in late 1979, when they saw a massive increase in resistance by Mujahidin.

Afghan Air Wars details how Soviet aircraft including the MiG-21, MiG-23, Su-17 and Su-25, as well as Mi-8 and Mi-24 helicopters supported Soviet offensives in the Panjshir Valley and other regions. Despite these high-octane operations and overwhelming air superiority, Soviet forces eventually withdrew.

Some 20 years later, US and NATO air forces were deployed in similar roles. F-15E, F-16, F/A-18, A-10, Mirage, Harrier and Tornado aircraft all saw action in the skies over Afghanistan as did the CH-47 Chinook and AH-64 Apache helicopters. Mike Napier fully details their series of operations in a hostile environment as well as the advent of high-resolution targeting pods and Precision Guided Munitions (PGM) which enabled aircraft to stand off from threat areas and also to deploy their weapons with deadly accuracy. The conflict also saw the groundbreaking introduction of Remotely Piloted Vehicles (RPV) into routine air operations.

Afghan Air Wars is richly illustrated with over 240 images – both official photos and privately taken, in-theatre images which have not been previously published. It also includes first-hand accounts by aircrews involved to create a unique and comprehensive picture of the part played by air power over Afghanistan in the last 40 years.
About the Author
---
Michael Napier is an experienced author with ten published titles to his name, five of which have been published by Osprey, including The Royal Air Force: A Centenary of Operations, In Cold War Skies and Korean Air War. He is an ex-RAF Tornado strike/attack pilot who saw front-line service during the Cold War as well as combat experience over Iraq.