Assault on the Gothic Line 1944: The Allied Attempted Breakthrough into Northern Italy (Campaign #387) (Paperback)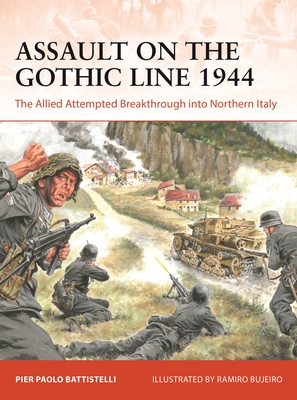 $25.00

Usually Ships in 1-5 Days
Description
---
Enjoy a detailed examination of Operation Olive as US, British, Commonwealth and Allied forces seek to smash through the last German defensive line in Italy.

The Italian theatre of operations post-summer 1944 was often (and incorrectly) surmised at the time as a quiet sector of World War II, populated with troops who were relieved not to find themselves fighting in North-West Europe. Yet the true nature of the hard fighting that took place here was soon revealed when the Allies began their assault on the Axis Gothic Line defences, known as Operation Olive.

In this book, Italian military historian Pier Paolo Battistelli documents the dual Allied offensive spearheaded by American and British units to smash through what was supposed to be the final Axis defensive line in Italy before the Alps. The overall strategic aims of both the Axis and Allied leaders are explored, together with the organization of the forces committed.

The expertly researched maps and 3D diagrams guide the reader through the progress of the phased battles in challenging terrain. Photographs and specially commissioned artworks show the soldiers that fought on both sides, including American, Canadian, Indian, Brazilian, Polish, New Zealander, British, German and Italian troops, as well as the materiel they employed. The result is an essential illustrated guide to a fascinating and complex late-war campaign.
About the Author
---
Pier Paolo Battistelli is a military history scholar and researcher who focuses on the Axis powers in World War II. A freelance author and consultant, he has previously written and co-written several books for Osprey, including two recent works on the Balkans 1940–41. He has also authored several entries for the Oxford Bibliographies in Military History, edited by Dennis Showalter.
Praise For…
---
"By Page 30 readers have been given a first-class overview." - Susan Wilson, Army Rumour Service