Flashpoint: A Wargame (Osprey Wargames) (Paperback)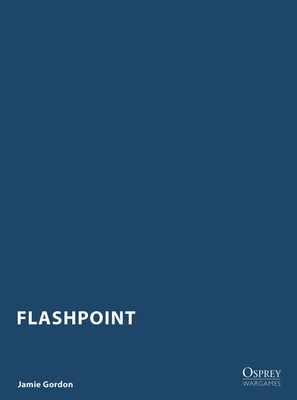 Description
---
A set of platoon level wargames rules for fighting in a Cold War Gone Hot scenario.

East vs West, Capitalist vs Communist. Fight as either the Warsaw Pact or NATO in Flashpoint, a set of platoon level wargaming rules for a Cold War Gone Hot alternate history circa 1986. Featuring an extensive campaign system allowing for platoon, squad, and individual character development with forces selected from a range of conventional infantry through to special forces and even guerrillas combatants, Flashpoint contains all the rules, units, and scenarios to fight World War III.
About the Author
---
Jamie Gordon serves in law enforcement, both civil and military, having previously served as an infantry officer. He has been a keen wargamer since 1990 and has dabbled in most areas of the hobby. In recent years he has become more heavily involved in the publication side of the hobby and his articles can frequently be found published in Wargames, Soldiers and Strategy and other magazines.

Born and raised in Malaysia, Darren Tan grew up drawing spaceships, dinosaurs and the stuff of his imagination, which was fuelled by movies and computer games. Following a brief stint in 3D animation, Darren now works as a freelance illustrator.