MacArthur's Air Force: American Airpower over the Pacific and the Far East, 1941–51 (Paperback)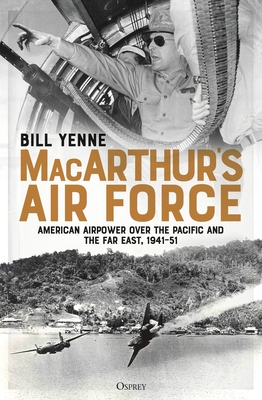 $21.00

Usually Ships in 1-5 Days
Description
---
General Douglas MacArthur ended World War II controlling one of the most powerful air forces in the world. This fascinating history, now available in paperback, traces its development from its origins in the Philippines through to its eventual victory in the skies over Japan and its key role in the Korean War.

General Douglas MacArthur is one of the towering figures of World War II, and indeed of the twentieth century, but his leadership of the second largest air force in the USAAF is often overlooked. When World War II ended, the three numbered air forces (the Fifth, Thirteenth, and Seventh) under his command possessed 4,004 combat aircraft, 433 reconnaissance aircraft, and 922 transports. After being humbled by the Japanese in the Philippines in 1942, MacArthur and his air chief General George Kenney rebuilt the US aerial presence in the Pacific, helping Allied naval and ground forces to push back the Japanese Air Force, retake the Philippines, and carry the war north towards the Home Islands. Following the end of World War II, MacArthur was the highest military and political authority in Japan and at the outbreak of the Korean War in June 1950 he was named as Commander-in-Chief, United Nations Command. In the ten months of his command, his Far East Air Forces increased dramatically and saw the first aerial combat between jet fighters.

Written by award-winning aviation historian Bill Yenne, this engrossing and widely-acclaimed title, now available in paperback, traces the journey of American air forces in the Pacific under General MacArthur's command, from their lowly beginnings to their eventual triumph over Imperial Japan, followed by their entry into the jet age in the skies over Korea.
About the Author
---
Bill Yenne is the author of more than three dozen non-fiction books, as well as ten novels. His work has been selected for the Chief of Staff of the Air Force Reading List. He is the recipient of the Air Force Association's Gill Robb Wilson Award for the 'most outstanding contribution in the field of arts and letters [as an] author whose works have shaped how thousands of Americans understand and appreciate airpower.' He lives in California, USA.
Praise For…
---
"A book by Bill Yenne is always a treat, and this one exceeds his own best efforts. I can guarantee that you will be engaged by his master storytelling from his opening words to the very last page of what I consider to be his finest work yet." —Col. Walter J. Boyne, USAF (Ret.), combat veteran and aviation historian

"'Bill Yenne has given readers another fact-filled, chronological book detailing the Pacific War with MacArthur's Air Force... [This book] is for the reader who wants a broad history filled in with the fun details. Who else but Bill Yenne would quote messages back and forth of American air commanders trying to rein in air ace Richard Bong as he kept wanting to fly? The tongue-in-cheek admonishments of the generals to Bong to be careful in the air are worth the price of this book" —Clint Johnson, author of 'Tin Cans & Greyhounds: The Destroyers that Won Two World Wars'