A Wine Expert's Guide to the Best Booze-Free Drinks (Paperback)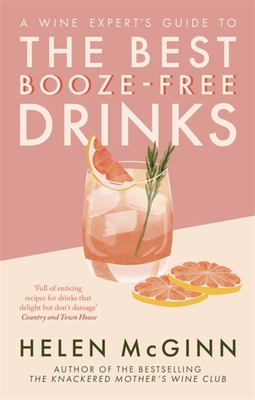 $15.99
Email or call for price
Description
---
Ever decided to go booze-free only to find the alternatives a little, well . . . boring? If you're embarking on a dry spell, this book is just the tonic (so to speak).

Drinks expert Helen McGinn shows you how to make the most of your time off the sauce with plenty of recipes for simple homemade mocktails, infusions and cordials, along with a guide to non-alcoholic wines, beers and spirits worth adding to your drinks cupboard.

Think of this book as a friend, with a (dry) sense of humour, to keep you company in style through your booze-free spell.
About the Author
---
HELEN McGINN is a drinks expert and international wine judge, writing columns for the Daily Mail and Waitrose Food magazine. She's the author of award-winning wine blog and bestselling book The Knackered Mother's Wine Club. Among other awards, Helen won Online Drink Writer of the Year in Fortnum & Mason's inaugural Food & Drink Awards in 2013. She spent almost a decade sourcing wines around the world as a supermarket wine buyer and spent the next half-decade pregnant. Helen is married with three children. And she's hopeless with a hangover.

Twitter: @knackeredmutha
Instagram: @knackeredmother
Facebook: knackeredmotherswineclub
Website: www.knackeredmotherswineclub.com
Praise For…
---
I loved McGinn's The Knackered Mother's Wine Club, inspired by her award-winning blog. Here she explains how not to drink, suggesting mocktails, infusions, cordials, non-alcoholic beers and wines, and other adult soft drinks to help you actually enjoy Dry January . . . and any other dry spells you choose to embark on. Having just completed a very dull and dry August, I'm sold on this already.—Editor's Choice, Bookseller

I loved McGinn's The Knackered Mother's Wine Club, inspired by her award-winning blog. Here she explains how not to drink, suggesting mocktails, infusions, cordials, non-alcoholic beers and wines, and other adult soft drinks to help you actually enjoy Dry January . . . and any other dry spells you choose to embark on. Having just completed a very dull and dry August, I'm sold on this already.—Editor's Choice, Bookseller

My old friend and drinking partner Helen writing a book on teetotal tipples! Whatever next? But she does it with great wit and common sense, and almost persuades me that a booze-free January is a thing of beauty. Almost.

My old friend and drinking partner Helen writing a book on teetotal tipples! Whatever next? But she does it with great wit and common sense, and almost persuades me that a booze-free January is a thing of beauty. Almost.

An engaging new book . . . [Helen's] clever mocktails should get you through a dry January without too much pain.—Guardian Weekend magazine

An engaging new book . . . [Helen's] clever mocktails should get you through a dry January without too much pain.—Guardian Weekend magazine

The mocktails and infusions are savoury rather than sweet, and the recipes rely on ingredients with plenty of falvour (...) these are drinks you can make and enjoy the ritual of making, a little bit like opening a fine bottle of wine or mixing the perfect G&T.—Daily Echo (Bournemouth)

The mocktails and infusions are savoury rather than sweet, and the recipes rely on ingredients with plenty of falvour (...) these are drinks you can make and enjoy the ritual of making, a little bit like opening a fine bottle of wine or mixing the perfect G&T.—Daily Echo (Bournemouth)