Sounds & Furies: The Love-Hate Relationship between Women and Slang (Paperback)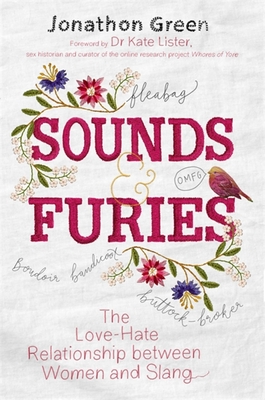 $22.99
Email or call for price
Description
---
'When it comes to distaff dirtiness, mainstream males such as Dickens and Dekker make easy pickings, but Green finds the greatest treasures when he mudlarks on the margins. In Sounds & Furies, he has dredged up some gems.'
Emma Byrne, Spectator

'From fishwives to flappers and from music hall performers to Mumsnetters, women have indeed made contributions to the slang vocabulary of English; by bringing together so much fascinating material about their words and their worlds, this book makes its own contribution to the history of both women and language.'
Professor Deborah Cameron, Professor of Language and Communication, Worcester College, University of Oxford
'Green comprehensively disproves that slang is inherently masculine. Mumsnetters and bulldaggers, flappers and slappers, shicksters and hash-slingers all put in their claims as slang-users in their own right in this entertaining and thought-provoking book. Any writer venturing into the contentious area of women as users, creators or objects of slang from now on will look to Green for guidance or for arguments.'
Julie Coleman, author of The Life of Slang
Slang. The ultimate in man-made languages. The male gaze made verbal. A world where words for intercourse mean 'man hits woman', the penis is a gun, a knife or club and the vagina a terrifying tunnel. Possibly with teeth. Two thousand words for woman and every one a put-down. Even 'mother' is simply short for the grossest of obscenities.
Thus the story, now and for several hundred years. But stories are just that and perhaps there's an alternative.
In this book Jonathon Green, the leading collector of English-language slang and drawing on forty years of research in the field, asks whether women have another role to play. As slang's active, positive, rebellious subject, rather than its endlessly derided, submissive object.
Sounds & Furies represents a quest to overturn a long-established, but far from invulnerable belief system. To show that throughout a recorded history that starts with Chaucer's bawdy, mouthy and magnificently self-willed Wife of Bath and carries on through a cast of working girls and villainesses, playwrights and bestselling authors, shop-girls and fish-wives and through to the modern, on-line worlds of Mumsnet and Tinder, women have always made slang their own.
If slang has always been the language of the margins, then women, for all their numbers, have also been consigned to the margins. Those days, it is ever more clear, are over. If slang has a role then it is to represent us at our most human. That may not mean 'admirable' but it surely means 'true'. And humanity is on offer to everyone, whatever gender they may claim. That goes for language, whatever its variety, too.
From the foreword by sex historian Kate Lister:
'Patriarchal cultures have understood women, controlled women, and marginalised women. But, this book also reveals that it is the rebellious women who used slang: the fishwives, the scolds, the whores, and the harridans. Long may they continue to do so.'
About the Author
---
JONATHON GREEN, known as 'Mr Slang', is the world's leading lexicographer of dictionaries of anglophone slang. His first dictionary appeared in 1984 and since then he has written and broadcast widely on the subject. The Cassell Dictionary of Slang appeared in 1998, the Chambers Dictionary of Slang in 2008 and the three-volume Green's Dictionary of Slang in 2010. The material, which deals with the slang of every English-speaking country, dates from approximately 1400 and continues as far as possible to the present day. As of 2016, this has been available online and is expanded and revised in quarterly updates. At present it offers approximately 140,000 slang words and phrases, underpinned by around 635,000 citations or illustrative examples.
Green has also written a history of lexicography (Chasing the Sun: Dictionary-Makers and the Dictionary They Made, 1996), a history of slang (Language! 500 Years of the Vulgar Tongue, 2014) and a 'lexico-biography' (Odd Job Man, 2014). Other slang-related titles include The Slang Thesaurus (1988), Slang Down the Ages (1993), Getting Off at Gateshead (2008), Crooked Talk (2016) and The Stories of Slang (2016). His ongoing collection of The Timelines of Slang (the chronological ordering of the slang vocabularies of the counter-language's favourite topics) is available online.
Online links:
Green's Dictionary of Slang: https://greensdictofslang.com
The Timelines of Slang: the timelines of slang.tumblr.com
Website: jonathongreen.co.uk
Twitter: @misterslang
Praise For…
---
It's long been accepted, even while complaining about women using it, that slang is inherently masculine. In his detailed and wide-ranging survey, Jonathon Green comprehensively disproves this. About time too. Green finds that, at least in recent years, English-speaking women have been every bit as enthusiastic, creative and filthy in their non-standard language as men. Mumsnetters and bulldaggers, flappers and slappers, shicksters and hash-slingers all put in their claims as slang-users in their own right in this entertaining and thought-provoking book. Women remain frequent objects of slang too, so mysogynists and offence-seekers needn't feel neglected. Any writer venturing into the contentious area of women as users, creators or objects of slang from now on will look to Green for guidance or for arguments. One way or another, his continued influence is assured.—Julie Coleman, author of The Life of Slang

Jonathon Green is justly hailed as the King of Slang . . . informative and sometimes exhilarating, leading us through fields of filth.—Telegraph

The best bits of the book are Green's own reflections, which are often on how frustrating it has been to find girls-only slang and verify it . . . a useful book on a reference shelf, invaluable for university libraries . . a sidelight on history and literature.—Times Literary Supplement

When it comes to distaff dirtiness, mainstream males such as Dickens and Dekker make easy pickings, but Green finds the greatest treasures when he mudlarks on the margins. In Sounds & Furies, he has dredged up some gems.—Spectator

Women's relationship to slang, and especially their role in coining and popularising it, has been not so much a neglected topic as a non-issue: collectors and scholars have often assumed either that slang was an overwhelmingly male preserve, or else that women's contributions had gone unrecorded, and were consequently inaccessible to research. In Sounds and Furies Jonathon Green has put these assumptions to the test, and found many of them wanting. From fishwives to flappers and from music hall performers to Mumsnetters, women have indeed made contributions to the slang vocabulary of English; by bringing together so much fascinating material about their words and their worlds, this book makes its own contribution to the history of both women and language.—Professor Deborah Cameron, Professor of Language and Communication, Worcester College, University of Oxford