Eco Baby Where Are You Polar Bear?: A Plastic-free Touch and Feel Book (Board book)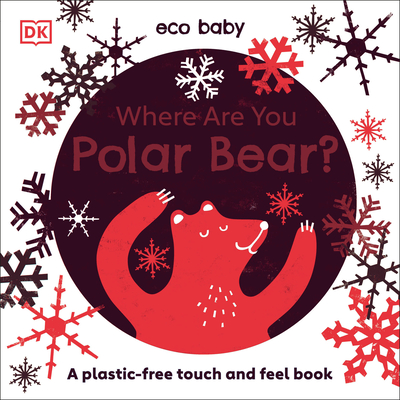 Description
---
Explore the icy Arctic and search for Polar Bear in this plastic-free touch and feel book. You'll get to meet incredible endangered animals along the way!

Let your little one take a journey through a frozen world to track down the elusive Polar Bear. Discover a whole host of incredible Arctic animals, including seals, hares, and narwhals!

Is that Polar Bear swimming in the sea? No, that's Narwhal and her baby! Out on the ice, someone is having a snooze. That's not Polar Bear, it's Walrus and her sleepy friend. Your toddler will love meeting all of Polar Bear's friends in this adorable educational book.

Natural cardboard pages with colorful illustrations, fun corrugated elements, and cut-out sections encourage little fingers to explore. This helps develop kids' fine motor skills while building an early learning foundation. Your child will learn how to recognize the names and describe all the incredible Arctic animals they see!

Treasure storytime with your little one! The simple text is ideal for reading aloud as you spot endangered animals in their natural habitat together. This encourages early language development and it's perfect for little learners who are just starting their reading journeys. There are lots of opportunities for parent-and-child interaction and hours of Arctic fun.

Plastic-Free Touch and Feel

This board book is designed to enhance your child's reading experience, while also protecting the environment. It's a fantastic eco-friendly gift. Unlike other touch and feel books, Where Are You Polar Bear? doesn't contain any plastic. Made from responsibly sourced cardboard, everything in this book is completely recyclable.

Complete the Series

There are more plastic-free touch and feel picture books to discover in this series from DK Books. Journey through the rainforest looking for the Tiger in Where Are You Tiger? Each book takes you on a journey through a different landscape in search of an animal at risk of extinction.
About the Author
---
We believe in the power of discovery. That's why we create books for everyone that explore ideas and nurture curiosity about the world we live in.
 
From first words to the Big Bang, from the wonders of nature to city adventures, you will find expert knowledge, hours of fun and endless inspiration in the pages of our books.

https://www.dk.com/