Practical Cactus and Succulent Book: The Definitive Guide to Choosing, Displaying, and Caring for more than 200 Cacti (Paperback)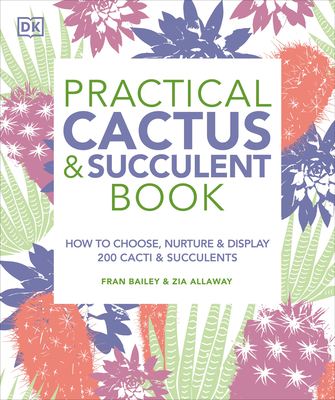 $22.99

Usually Ships in 1-5 Days
Description
---
Choose the right plant from 200 varieties of cacti and succulents, and learn how to grow and show them off with help from this comprehensive guide.

How can you encourage your bunny ear cactus to flower and flourish? What is the best method for propagating an Echeveria or Kalanchoe? What exactly are living stones, and where do they grow in the wild?

Practical Cactus and Succulent Book is the ultimate reference book for cactus and succulent enthusiasts. An extensive illustrated plant directory profiles more than 200 succulent and cactus varieties, with instructions on how to grow each one, while information dashboards offer fascinating facts and quirky stats about different plant families, such as Euphorbia and Echinopsis.

Show off your plants with inspirational display ideas and step-by-step projects. Follow the simple propagation instructions to increase your cacti and succulent collection without spending money. Keep your plants healthy with advice and tips for care and cultivation.

Practical Cactus and Succulent Book is everything a cactus lover needs.
About the Author
---
Fran Bailey grew up on a flower nursery near York, England, where her Dutch father encouraged her love of horticulture. After studying at the Welsh College of Horticulture, she moved to London to work as a freelance florist. In 2006, she opened her first flower shop, The Fresh Flower Company.

Zia Allaway is an author, journalist, and horticulturalist who has written and edited a variety of gardening books for the Royal Horticultural Society and DK, including Encyclopedia of Plants and Flowers. Zia also writes a monthly column on garden design for Homes and Gardens magazine and is a contributor to the Garden Design Journal. She runs a consultancy service from her home and offers practical workshops for beginners.

Consultants: Christopher Young is the horticultural team leader of the Glasshouse at RHS Wisley, the Royal Horticultural Society's flagship garden in Surrey, England.

Cassidy Tuttle is a blogger and creator of the popular Succulents and Sunshine blog. She's also a professional photographer and the author of Idiot's Guide: Succulents, and several ebooks, including Propagating Succulents and Growing Succulents Indoors.