Wild Justice (Medieval Mysteries) (Large Print / Paperback)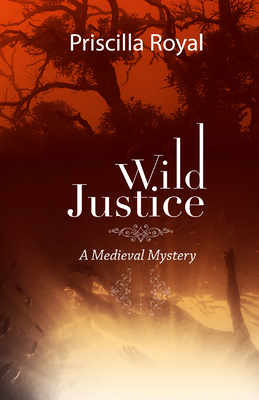 for information about purchasing this book, please contact orders@bookpassage.com
Other Books in Series
This is book number 14 in the Medieval Mysteries series.
Description
---
"Imagine an Agatha Christie mystery set in the late thirteenth century, and you'll have a pretty good picture of this very well executed mystery."—Booklist
It is Spring 1282. England is at war again with Wales. As Baron Hugh of Wynethorpe, a veteran of fighting in Outremer, prepares to join his King's army, he begs his sister, Prioress Eleanor, a favor. On her journey home to Tyndal Prior in Norfolk, she is to carry a gift of rents from the Wynethorpe estates to Mynchen Buckland Priory. The charter for the grant and a private letter are to be given to the Hospitaller nuns' Prioress Amicia, and none other. Eleanor agrees - if Hugh is heading into the Welsh wilderness, then she, Eleanor, will do him this service as well as pray for his protection.
When she and her party of Brother Thomas and Sister Anne arrive in cold and rain-sodden Somerset, they receive a chilly welcome. Then the new Prioress at Mynchen Buckland delivers shocking news: Amicia has been imprisoned, convicted of murdering a widow from the village in the priory's cloister, and awaits sentencing by the Prior of England, the Order of the Hospital of Saint John of Jerusalem's regional head in London. Eleanor gives Hugh's grant to newly elected Prioress Emelyne, but insists she must obey her brother's wishes by having an audience with Amicia in her cell. Eleanor is resolute in wishing to fulfill her promise by delivering Hugh's letter into Amicia's hands. Permission is granted.
Eleanor is unprepared for Amicia's terribly frail condition. And more so when Amicia reads the Baron's letter, then tearfully begs Tyndal's prioress to prove her innocence, claiming she did not commit the crime. Eleanor believes her.
In an unfamiliar place, the murder victim buried, and nothing left at the crime site, what can the Tyndal trio unearth? And how can they prolong their visit? Eleanor has it - she fakes a fall and injury to her ankle which requires nursing. Thomas and Anne will have to be her investigators, though they are closely chaperoned by members of the Mynchen Buckland community. Still, they learn the dead woman's unsavory behavior had made her well hated. Will anyone help uncover the real killer when so many welcomed the victim's death?
A medieval historical mystery perfect for readers of Denise Domning and Sharon Kay Penman!
Additional Praise for Wild Justice:
"...a good read for fans of medieval history and anyone interested in problems surprisingly relevant to modern life."—Kirkus Reviews
"Royal shows once again why she stands in the front rank of medieval mystery authors." —Publishers Weekly, STARRED Review
About the Author
---
Priscilla Royal grew up in British Columbia and earned a B.A. in World Literature at San Francisco State University, where she discovered the beauty of medieval literature. She is a theater fan as well as a reader of history, mystery, and fiction of lesser violence. When not hiding in the thirteenth century, she lives in Northern California and is a member of California Writers Club, Mystery Writers of America, and Sisters in Crime.
Praise For…
---
"Royal shows once again why she stands in the front rank of medieval mystery authors." — Publishers Weekly STARRED Review

"Imagine an Agatha Christie mystery set in the late thirteenth century, and you'll have a pretty good picture of this very well executed mystery." — David Pitt, Booklist

"...a good read for fans of medieval history and anyone interested in problems surprisingly relevant to modern life." — Kirkus Reviews

"Priscilla Royal has written many medieval mysteries, and I believe this book will satisfy those who have enjoyed her previous novels. She has written a book with a steadily unraveling plot, with details of the monastery routine coming to life. I loved the characters within the monastery and their interactions in this absorbing blend of history and mystery." — Historical Novel Society