Insider's Guide to Graduate Programs in Clinical and Counseling Psychology: 2014/2015 Edition (Paperback)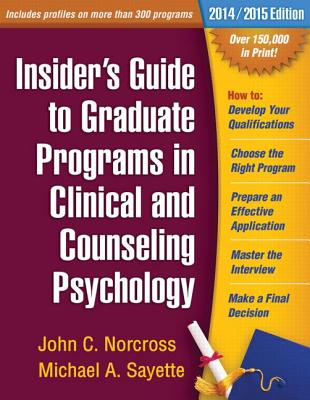 Description
---
This perennial bestseller, now in its 2014/2015 edition, is the resource you can rely on to help you select--and get into--the graduate clinical or counseling psychology programs that meet your needs. The Insider's Guide is based on intensive research and includes information and advice not available from any other source. In-depth profiles on more than 300 accredited programs in the United States and Canada provide details on specializations or tracks, admission requirements, acceptance rates, financial aid, research areas, clinical opportunities, and more. Planning and decision-making worksheets help you streamline the selection process and zero in on your top choices.
About the Author
---
John C. Norcross, PhD, ABPP, received his baccalaureate summa cum laude from Rutgers University, earned his doctorate in clinical psychology from the University of Rhode Island, and completed his internship at the Brown University School of Medicine. He is Distinguished Professor of Psychology at the University of Scranton, Adjunct Professor of Psychiatry at SUNY Upstate Medical University, and a board-certified clinical psychologist in part-time independent practice. He edited the Journal of Clinical Psychology: In Session for 10 years. Past-president of the American Psychological Association's (APA's) Division of Clinical Psychology and Division of Psychotherapy, he currently serves on APA's Board of Educational Affairs. Dr. Norcross has published more than 300 articles and has authored or edited over 20 books. Among his awards are the Pennsylvania Professor of the Year from the Carnegie Foundation, Distinguished Practitioner from the National Academies of Practice, and the Distinguished Career Contribution to Education and Training Award from APA. Dr. Norcross has conducted workshops and research on graduate study in psychology for many years.

Michael A. Sayette, PhD, received his baccalaureate cum laude from Dartmouth College. He earned his master's and doctorate in clinical psychology from Rutgers University and completed his internship at the Brown University School of Medicine. He is Professor of Psychology at the University of Pittsburgh, with a secondary appointment as Professor of Psychiatry at the Western Psychiatric Institute and Clinic, University of Pittsburgh School of Medicine. Dr. Sayette has published primarily in the area of substance abuse. His research, which has been supported by the National Institute on Alcohol Abuse and Alcoholism, the National Institute on Drug Abuse, the National Institute of Mental Health, and the National Cancer Institute, concerns the development of psychological theories of alcohol and tobacco use. Dr. Sayette is a Fellow of the APA and of the Association for Psychological Science. He has served on National Institutes of Health grant review study sections and is on the editorial boards of several journals. He also has served as an associate editor of the Journal of Abnormal Psychology and of Psychology of Addictive Behaviors. Dr. Sayette has directed graduate admissions for the clinical psychology program at the University of Pittsburgh, and has presented seminars on applying to graduate school at several universities in North America and Europe.
 
Praise For…
---
"A 'must read."... Like many other Directors of Clinical Training, I could continue to pull my hair out over the increased individual inquiries regarding how to get into graduate school, or simply refer each individual to the well-written, fact-based latest edition of the Insider's Guide."--Sally H. Barlow, PhD, Director of Clinical Training, Brigham Young University
"The authors have created a valuable guide for applicants. The wealth of practical information and insights gleaned from their research and personal experiences should help applicants make the strongest possible application to the schools of their choice. This well-written, encouraging book will be a great asset for anyone applying to clinical or counseling psychology programs."--Barry A. Hong, PhD, Washington University School of Medicine
"I love your book! This book is excellent for focusing upon specific areas of interest as well as going about the process in a systematic, logical manner. Great job!"--Helen Rowan, MA, clinician returning for her doctorate 
 
"Your book is simply a godsend! I found it to be instructive, informative, and a great comfort."--Emily M. Douglas, psychology undergraduate
"I was lost and confused before I stumbled across this wonderful piece of literature! It answered every question I had, narrowed down my choices. The ranking system was great!"--Lisa Oldfield, clinical psychology applicant
 
"Your book has helped me immensely. It was fun to read and contained great suggestions and insights that I would have been clueless about. Thank you for providing this resource for students!"--Timothy G. Lock, graduate student
 
"Your book means so much to me. The Insider's Guide was the most helpful piece of literature I came across during my years of research into graduate programs. It was almost like a bible to me."--Sharon Lee Hudson, doctoral student
 
"I bought your book at the suggestion of my undergraduate psychology advisor once I decided to go back to school after spending nearly 10 years in the nonprofit sector. Your book has been extremely helpful and I have used it as my road map in guiding my efforts to set myself up to be successful in applying to schools this year. Thank you for writing this book--I really would not have known how to navigate the process without it."--George Lewis 
 
"I am writing to thank you for the second time for the remarkable resource the Insider's Guide has been. My girlfriend has just successfully utilized your most recent edition and has been accepted into a clinical PhD program. Great stuff!"--Jason Paris, graduate student
 
"I cannot express enough gratitude to you for the Insider's Guide. Your book was the most important resource that I used during my applications to PhD programs in counseling psychology. It is exceptionally well written, incredibly applicable, and, most important, it is clear, concise, and pragmatic. Thank you so much for remembering how stressful and chaotic the application process can be, as well as being empathic enough to pull together a resource that I am sure has helped so many graduate students."--Kimberly Tran, doctoral student
"The essential and practical guide for those who are considering pursuing graduate-level degrees in clinical or counseling psychology....It is objective, informative, and almost like having your own personal advisor to guide you along the way. *****"
— Doody's Review Service
"[Helps] students prepare to gain entrance into the two specific subfields of psychology that are popular but extraordinarily competitive. The book is written in a pragmatic, conversational tone that is easy to understand. The advice is realistic, which is important when each year applicants in the triple-digits usually compete for slots in the single-digits. Highly recommended."
— Choice
"The
Insider's Guide
focuses on the complete application process with sample documents, worksheets, and timelines. Advice, warnings, and an easy-to-read format give this book an edge over resources providing program descriptions only, such as the American Psychological Association's
Graduate Study in Psychology
and
Peterson's Graduate Programs in the Humanities, Arts, and Social Sciences
."
— American Reference Books Annual