Losing Our Voice: Radio-Canada Under Siege (Paperback)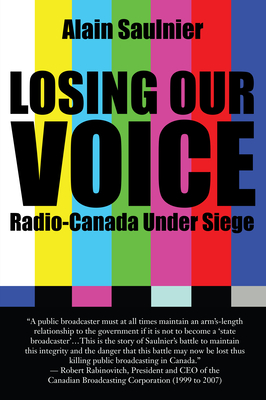 $26.99
Email or call for price
Description
---
The inside story of decades of government interference in the work of our national public broadcaster, CBC/Radio-Canada.

Is there a quiet campaign to hamstring and silence the CBC? In Losing Our Voice Alain Saulnier, long-time head of news and public affairs at Radio-Canada, documents the decades of political interference that have jeopardized the very existence of one of Canada's most important cultural institutions.

For French-speaking Canadians, with limited options in their own language, the national broadcaster is all the more important. But tensions surrounding national unity and identity have exacerbated the tendency of federal politicians to meddle in CBC/Radio-Canada's content and management. Saulnier takes us behind the scenes as these tensions play out, and culminate in the punitive Harper budget cuts.
About the Author
---
Alain Saulnier is a career journalist who was head of news and public affairs programming at Radio-Canada's French-language radio, television, and web services until 2012.