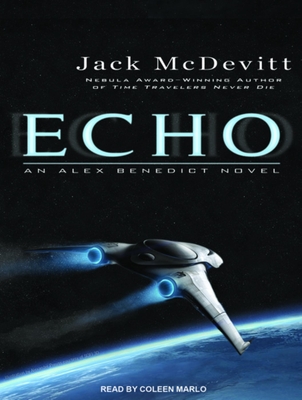 Description
---
Eccentric Sunset Tuttle spent his life searching in vain for forms of alien life. Thirty years after his death, a stone tablet inscribed with cryptic, indecipherable symbols is found in the possession of Tuttle's onetime lover, and antiquities dealer Alex Benedict is anxious to discover what secret the tablet holds. It could be proof that Tuttle had found what he was looking for. To find out, Benedict and his assistant embark on their own voyage of discovery-one that will lead them directly into the path of a very determined assassin who doesn't want those secrets revealed. Echo is the fifth book to feature intersteller antiquities dealer Alex Benedict. The first four titles in the series are available on audio from Audible.
About the Author
---
Jack McDevitt is the Nebula Award-winning author of "The Devil's Eye," "Seeker," "Moonfall," and "Cauldren," and he is also the author of numerous prize-winning short stories.

Coleen Marlo is an accomplished actor and multi-award-winning audiobook voice artist and producer. In 2010 she was named Audiobook Narrator of the Year by "Publishers Weekly," and she won the Audie Award for Literary Fiction in 2011. She has won numerous "Publishers Weekly" Listen-Up Awards and is an "AudioFile" Earphones Award winner.
Praise For…
---
"Fans of antiquities dealer Alex Benedict will find their expectations fully met by his fifth outing." ---Publishers Weekly