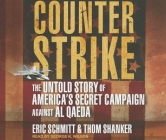 $39.99
Usually Ships in 1-5 Days
Description
---
In the years following the 9/11 attacks, the United States waged a "war on terror" that sought to defeat Al Qaeda through brute force. But it soon became clear that this strategy was not working, and by 2005 the Pentagon began looking for a new way. In Counterstrike, Eric Schmitt and Thom Shanker of the New York Times tell the story of how a group of analysts within the military, at spy agencies, and in law enforcement has fashioned an innovative and effective new strategy to fight terrorism, unbeknownst to most Americans and in sharp contrast to the cowboy slogans that characterized the U.S. government's public posture. Adapting themes from classic Cold War deterrence theory, these strategists have expanded the field of battle in order to disrupt jihadist networks in ever more creative ways. Schmitt and Shanker take listeners deep into this theater of war, as ground troops, intelligence operatives, and top executive branch officials have worked together to redefine and restrict the geography available for Al Qaeda to operate in. They also show how these new counterterrorism strategies, adopted under George W. Bush and expanded under Barack Obama, were successfully employed in planning and carrying out the dramatic May 2011 raid in which Osama bin Laden was killed. Filled with startling revelations about how our national security is being managed, Counterstrike will change the way Americans think about the ongoing struggle with violent radical extremism.
About the Author
---
Eric Schmitt is a terrorism correspondent for the "New York Times" who has twice been a member of "New York Times" Pulitzer Prize-winning reporting teams. Thom Shanker is a Pentagon correspondent for the "New York Times" who routinely spends time embedded with troops in Iraq and Afghanistan.

George K. Wilson has narrated over one hundred fiction and nonfiction audiobook titles, from Thomas L. Friedman to Thomas Pynchon, and has won several "AudioFile" Earphones Awards.
Praise For…
---
"Should appeal to anyone who wants to understand the parameters of the ongoing fight against terrorism." ---Publishers Weekly