Heirs to Dirty Linen and Harlem Ghosts: Whitewashing Prohibition with Black Soap (Hardcover)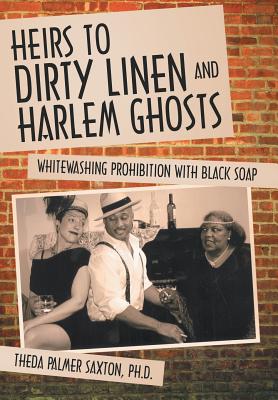 $37.99

Usually Ships in 1-5 Days
Description
---
Successful entrepreneur and author Dr. Theda Palmer Saxton uncovers the Heirs to Dirty Linen and Harlem Ghosts as she weaves together the most unlikely events and people into a neat package filled with salacious political corruption and organized crime. Theda threads racism, newly empowered white women, greedy white men, and self-serving politicians into the eye of a needle deeply embedded in the garments which clothe the players of speakeasies on Swing Street.
The emerging new Northern black population collided with white, New York, high society, which was thirsty for a quasi-relationship with the "exotic" new Negro writers and musicians. Harlem vicariously became the cutting edge leader in interracial relationships, trendy clothing fads, raucous clubs with scantily clad chorus girls, and evolving jazz giants.
Dr. Theda lays out a substantive pictorial format of Bill Saxton's rich past, which places him at the right place at the right time as the quintessential music steward of the legendary Bill's Place on Swing Street. Heirs to Dirty Linen and Harlem Ghosts is a must-read for the curious minds wanting a peek into familiar tales of American culture connected from a black woman's perspective. She breathes fresh air into the musician's unsettled spirit, which haunts Harlem. Thanks to her business acumen and Bill's talent, Swing Street via Bill's Place still perpetuates jazz music, which remains America's sole original artistic cultural contribution to the world. It swings.