I Didn't Do My Homework Because... (Hardcover)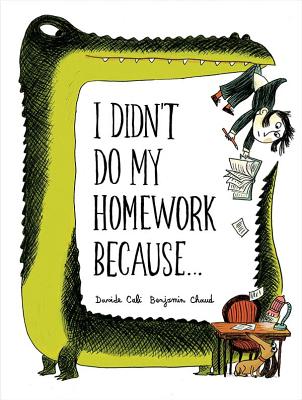 for information about purchasing this book, please contact orders@bookpassage.com
Description
---
How many excuses are there for not doing homework? Let us count the ways: Giant lizards invaded the neighborhood. Elves hid all the pencils. And then there was that problem with carnivorous plants.... The excuses go on and on, each more absurd than the next and escalating to hilarious heights. Featuring detail-rich illustrations by Benjamin Chaud, this book is guaranteed to amuse kids and their parents, not to mention anyone who has experienced a slacker student moment—and isn't that everyone?
About the Author
---
Benjamin Chaud is a well-known French author and illustrator of more than 60 books, including The Bear's Song. He lives in the southeast of France.

Davide Cali is an illustrator, cartoonist, and children's book author. He has published more than 40 books including The Bear with the Sword, I Can't Wait, and A Dad Who Measures Up. His books have been translated into more than 20 languages. He lives in Milan, Italy.
Praise For…
---
"Even children who don't yet have homework will long to try out a few of these wild explanations for themselves."--Publishers Weekly

"Even children who don't yet have homework will long to try out a few of these wild explanations for themselves."--Publishers Weekly

"Even children who don't yet have homework will long to try out a few of these wild explanations for themselves."--Publishers Weekly

"This droll little book can be enjoyed for the cheek of the protagonist, the broad inventiveness of the excuses, and the scale of the whimsical illustrations."--Booklist

"This droll little book can be enjoyed for the cheek of the protagonist, the broad inventiveness of the excuses, and the scale of the whimsical illustrations."--Booklist

"This droll little book can be enjoyed for the cheek of the protagonist, the broad inventiveness of the excuses, and the scale of the whimsical illustrations."--Booklist

"Chaud's illustrations, reminiscent of Edward Gorey, are as imaginative as the excuses."--USA Today, ***1/2 out of four star review

"Chaud's illustrations, reminiscent of Edward Gorey, are as imaginative as the excuses."--USA Today, ***1/2 out of four star review

"Chaud's illustrations, reminiscent of Edward Gorey, are as imaginative as the excuses."--USA Today, ***1/2 out of four star review

A Junior Library Guild Selection

A Junior Library Guild Selection

A Junior Library Guild Selection

"Packed with overlapping images and detail. which will encourage careful observation and conversation."-School Library Journal

"Packed with overlapping images and detail. which will encourage careful observation and conversation."-School Library Journal

"Packed with overlapping images and detail. which will encourage careful observation and conversation."-School Library Journal

"Once readers pick it up, it's unlikely they'll put it down until it's finished. Especially if there's homework to be done."--Travis Jonker, 100ScopeNotes, a School Library Journal blog

"Once readers pick it up, it's unlikely they'll put it down until it's finished. Especially if there's homework to be done."--Travis Jonker, 100ScopeNotes, a School Library Journal blog

"Once readers pick it up, it's unlikely they'll put it down until it's finished. Especially if there's homework to be done."--Travis Jonker, 100ScopeNotes, a School Library Journal blog

"Brilliant! Genius! Clever in the best way possible!"--Books4YourKids

"Brilliant! Genius! Clever in the best way possible!"--Books4YourKids

"Brilliant! Genius! Clever in the best way possible!"--Books4YourKids