The Woman I Wanted to Be (Paperback)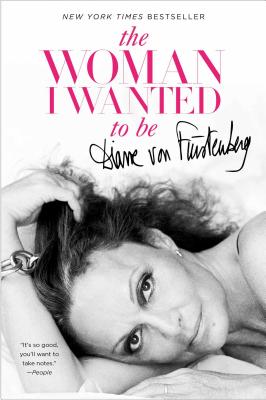 $17.00

Usually Ships in 1-5 Days
Description
---
One of the most influential, admired, and colorful women of our time: fashion designer and philanthropist Diane von Furstenberg tells the most personal stories from her life, about family, love, beauty and business: "It's so good, you'll want to take notes" (People).

Diane von Furstenberg started with a suitcase full of jersey dresses and an idea of who she wanted to be—in her words, "the kind of woman who is independent and who doesn't rely on a man to pay her bills." She has since become that woman, establishing herself as a major force in the fashion industry, all the while raising a family, maintaining that "my children are my greatest creation."

In The Woman I Wanted to Be, "an intriguing page-turner filled with revelations" (More), von Furstenberg reflects on her extraordinary life—from her childhood in Brussels to her days as a young, jet-set princess, to creating the dress that came to symbolize independence and power for generations of women. With remarkable honesty and wisdom, von Furstenberg mines the rich territory of what it means to be a woman. She opens up about her family and career, overcoming cancer, building a global brand, and devoting herself to empowering other women. This "inspiring, compelling, deliciously detailed celebrity autobiography…is as much of a smashing success as the determined, savvy, well-intentioned woman who wrote it" (Chicago Tribune).
About the Author
---
Diane von Furstenberg entered the fashion world in 1970 and four years later introduced her famous wrap dress. Her luxury fashion brand, DVF, is now available in more than fifty-five countries all over the world. Director of the Diller-von Furstenberg Family Foundation, she is an active philanthropist and supporter of emerging female leaders and social entrepreneurs. In 2015, she was named one of the Time 100 Most Influential People. She is the author of The Woman I Wanted to Be and Diane: A Signature Life.
Praise For…
---
"[a] warm, confiding memoir."
— VOGUE

"It's so good, you'll want to take notes."
— PEOPLE

"Diane's book evokes everything she has lived through. It is honest, direct and fascinating — just like the author herself!"
— Anna Wintour

"In this era when girls are made to think it's better to be a princess than a person, Diane von Furstenberg's The Woman I Wanted to Be is just the reverse. I thank her for honesty, spirit, encouragement to be one's own self in public and professional life, and a memoir that covers more human experience than most novels. Pick it up — you won't put it down."
— Gloria Steinem

"Diane von Furstenberg's story offers a behind-the-scenes look into the ups and downs of building a global business, creating an enduring brand, and finding true love. By sharing the path that enabled her to become the woman she wanted to be, Diane shows all of us how to live a life of focus and passion."
— Sheryl Sandberg

"Diane is the original modern princess who created the iconic wrap dress and has influenced fashion everywhere with her talent, lifestyle, elegance and beauty. Every girl will love reading her book."
— Kate Moss

"It has been a gift to read this book, and a true privilege to learn and discover that much more about DVF. What a thrill to be given an opportunity to peek even further into her life."
— Sarah Jessica Parker

"The legendary designer Diane von Furstenberg has a lot in common with her iconic wrap dress: practical yet sexy, demure yet revealing, sturdy yet fragile. This memoir is an intriguing page turner filled with her revelations about life, business, family and love. Fearless about naming names and probing her own failings, she analyses a 'little fling' with Richard Gere as sincerely as she does her midlife retreats from the fashion area—and her dynamic comeback. Her core philosophy? 'Turn negatives into positives and be proud to be woman.' She emerges, at 67, as a witty and reflective grownup, albeit one with plenty of surprises up her beautifully draped sleeve."
— MORE

". . . an honest an introspective look into the labyrinthine history behind one of the most iconic female entrepreneurs in fashion. Written in elegant yet straightforward prose . . . The designer candidly speaks of missteps and periods of her life which guided her away from what she truly wanted out of her life, and how she dealt with each situation, with grace and aplomb."
— Bustle.com

"Diane von Furstenberg's life combines the hallmarks of a fairy tale with the more sober reality of a career woman—and single mother—who longs to have it all. . . . The book is as charming and erratic as von Furstenberg herself . . . the early pages paint a vivid picture . . . her account of those first years is colorful and poignant."
— Finanacial Times

"[N]ow I find Diane the super person that folks are most curious about. Diane never let herself fail at anything; or if she faltered, she climbed back up. It is a pleasure to read a 'positive' book that is not just manufactured nonsense . . . We get a real look at a woman in her 60s who's still in her prime. She has a lesson for all of us."
— Worcester Telegram

"von Furstenberg's candid memoir contains hard-earned wisdom that she eagerly shares with women of all ages and backgrounds. A fascinating read for anyone interested in the behind-the-scenes world of contemporary fashion."
— Booklist

"In this captivating memoir, fashion powerhouse von Furstenberg thoughtfully reflects on her colorful life—and doesn't skimp on the juicy details. Von Furstenberg begins movingly by writing of her need to please her mother . . . then moves on to her life as a jet-set princess and fledgling designing in New York City, her invention of the iconic jersey wrap dress in the early 1970s, and stories of her children . . . She outlines her many positive contributions to the fashion industry, but admirably doesn't sugarcoat business missteps . . . This is a fascinating glimpse into the life of one of the fashion world's more enduring stars that will fascinate fashionistas and fans of strong, creative women."
— Publishers Weekly

"With humility and honesty, von Furstenberg's reflections on a life lived in the grandiose couture spotlight will delight both trendy, fashion-forward readers and budding designers eager to follow in her footsteps."
— Kirkus Reviews

"Designer Diane von Furstenberg's life readslike a fairy tale. She details it all with sincerity and humility in thismemoir."
— Pittsburgh Post-Gazette

"No stranger to the spotlight DVF's most recent venture, a book entitled The Woman I Wanted to Be chronicles how privilege opened certain doors in her early success, how much is still needed to be done to achieve equality, an insight into the behind-the-scenes ups and downs of running a global business and a story that is in equal parts wisdom, sobering reality and fairy tale."
— Los Angeles Fashion

"Designer Diane von Furstenberg's life reads like a fairy tale. She details it all with sincerity and humility in this memoir."
— Pittsburgh Post-Gazette

"an inspiring, compelling, deliciously detailed celebrity autobiography, the book is as much of a smashing success as the determined, savvy, well-intentioned woman who wrote it."
— Chicago Tribune