Monster Hunter Legion (Mass Market)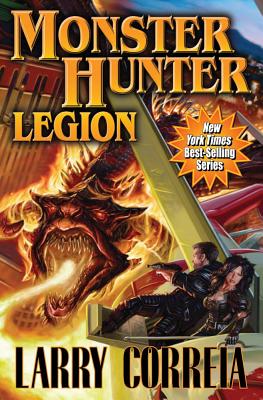 $8.99

Usually Ships in 1-5 Days
Other Books in Series
This is book number 4 in the Monster Hunter series.
Description
---
Book 4 in the New York Times Best Selling Monster Hunter series. A conference in Vegas becomes a showdown between Owen Pitt and the staff of Monster Hunter International with an ancient god, one that could turn Sin City into a literal hell on earth.

Monster Hunter International might be the premier monster eradication company in the business, but they've got competition.

When hunters from around the world gather in Las Vegas for a conference, a creature left over from a World War Two weapons experiment wakes up and goes on a rampage across the desert. A not-so-friendly wager between the rival companies turns into a race to see who can bag the mysterious creature first.

Only there is far more to this particular case than meets the eye, and as Hunters fall prey to their worst nightmares, Owen Zastava Pitt and the staff of Monster Hunter International have to stop an ancient god from turning Sin City into a literal hell on earth.


About Monster Hunter Legion:
"If Pitt and his crew can't stop this one, what happens in Vegas will not stay in Vegas, but will take over the whole planet. . . . It's definitely a lot of fun, much of it tongue-in-cheek. Any shoot-em-up gamer should be delighted." —Analog on Monster Hunter Legion.

About Larry Correia's Monster Hunter series
"[A] no-holds-barred all-out page turner that is part science fiction, part horror, and an absolute blast to read."—Bookreporter.com

"If you love monsters and action, you'll love this book. If you love guns, you'll love this book. If you love fantasy, and especially horror fantasy, you'll love this book."—Knotclan.com

"A gun person who likes science fiction—or, heck, anyone who likes science fiction—will enjoy [these books]…The plotting is excellent, and Correia makes you care about the characters…I read both books without putting them down except for work…so whaddaya waitin' for? Go and buy some…for yourself and for stocking stuffers."—Massad Ayoob

About Larry Correia's Monster Hunter Vendetta:
"This lighthearted, testosterone-soaked sequel to 2009's Monster Hunter International will delight fans of action horror with elaborate weaponry, hand-to-hand combat, disgusting monsters, and an endless stream of blood and body parts."—Publishers Weekly
About the Author
---
Larry Correia is the creator of the Wall Street Journal and New York Times best-selling Monster Hunter International series, with first entry Monster Hunter International; as well as urban fantasy hardboiled adventure saga The Grimnoir Chronicles, with first entry Hard Magic; and epic fantasy series The Saga of the Forgotten Warrior, with first entry Son of the Black Sword. He is an avid gun user and advocate who shot on a competitive level for many years. Before becoming a full-time writer, he was a military contract accountant, and a small business accountant and manager. Correia lives in Utah with his wife and family.