Hollywood Hypocrites (Paperback)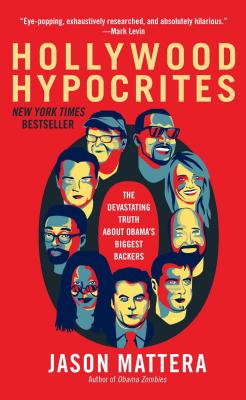 $17.99

Usually Ships in 1-5 Days
Description
---
A humorous critique of the Hollywood liberals from the New York Times bestselling author of Obama Zombies.

THE BOOK YOU'RE ABOUT TO READ WILL PISS YOU OFF.

Are you sick of self-important celebrities preaching against "global warming" yet flying private planes to their countless homes? Fed up with lectures about charity and philanthropy from miserly rockers who will do anything for a tax break? Disgusted by leftist stars decrying the evils of the Second Amendment as their personal bodyguards pack more heat than a Chuck Norris kick to the face?

You laughed as you watched gonzo journalist Jason Mattera "punk" some of the Left's biggest icons. You cheered as he rattled a generation from their unthinking liberal slumber in Obama Zombies. Now, in his shocking latest New York Times bestseller, Mattera sets his sights on his biggest target yet, ground zero for liberal lunacy, the Left's Holy Land: .Hollywood.
About the Author
---
Jason Mattera is the New York Times bestselling author Obama Zombies and Hollywood Hypocrites. He served as the youngest editor of a national periodical, Human Events, and as a broadcaster with the legendary news talk radio 77 WABC in New York City. His "ambush interviews" of top liberals, including Vice President Joe Biden, Michael Bloomberg, disgraced IRS official Lois Lerner, and Hillary Clinton, have become Internet legends. Ann Coulter crowned Mattera a "national treasure," Michelle Malkin says his work is a "heat-seeking missile aimed at the Cult of Obama," and POLITICO named him Washington, DC's "bad boy reporter." He is the publisher of the hard-hitting news and entertainment site Daily Surge.
Praise For…
---
"A devastating investigation that rips the mask off the people who sold Obama to America--radical Hollywood. Eye-popping, exhaustively researched, and absolutely hilarious, Mattera's book muzzles the Hollywood liberals who stand ready to repackage a failed president to voters all over again. Powerful evidence for anyone committed to seeing Obama defeated in 2012." --Mark Levin, #1 New York Times bestselling author of Liberty and Tyranny: A Conservative Manifesto



"Best-selling Brooklyn bruiser Jason Mattera unleashes a barrage of body blows to Hollywood's holier-than-thou limousine liberals that may make them think twice next time they open their pretty mouths." --Andrew Breitbart, publisher of Big Hollywood and author of the New York Times bestseller Righteous Indignation




Praise for Obama Zombies:
 "Jason Mattera is a national treasure. . . . Piercing, eye-opening, and deliciously witty, Obama Zombies is required reading for an entire generation who have been sold liberal lies." —Ann Coulter, NYT bestselling author of Treason and Slander