Marriage with Meaning: A Values-Based Model for Premarital Counseling (Paperback)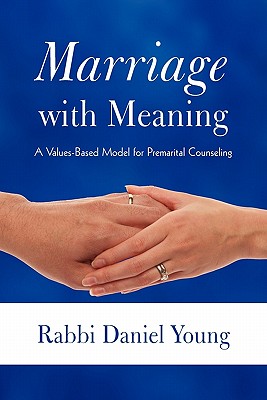 $14.95

Usually Ships in 1-5 Days
Description
---
The importance of premarital counseling has grown more and more apparent in recent years. As a result, it is imperative that couples are provided a supportive environment in which they can probe challenging topics together. Based on the belief that a couple's focus in the weeks and months leading up to marriage should be on laying the foundation for a successful and meaningful life together,
Marriage with Meaning
focuses on key components that lead to marital happiness and satisfaction.
A sensitive guide appropriate for Jewish couples, interfaith couples, and same sex couples, Marriage with Meaning will help any couple enjoy a full and rich relationship that will last a lifetime.
Rabbi Young provides a thoughtfully researched and sensitively written work featuring enduring wisdom and practical advice for both couples entering marriage as well as the clergy counseling them.
-Rabbi Lauren Kurland
Marriage is not about a day, it is the quintessential, most important decision of our lives. If a small fraction of the energy, time and money that goes into planning a wedding were a part of the strategic plan for marriage, couples could find themselves better prepared for the realities of long term relationships and commitments. This book provides the foundational building blocks for consciously and proactively developing a marriage that is strong and durable. Giving this book as a gift is like giving a manual for the care and treatment of the relationship Every couple should have a copy as part of their tool kit for a fulfilling life together.
-Jeffrey F. Spar, Ph.D. Psychologist and Executive Coach.