Awakening the Divine Within: Kundalini-The Gateway to Freedom (Paperback)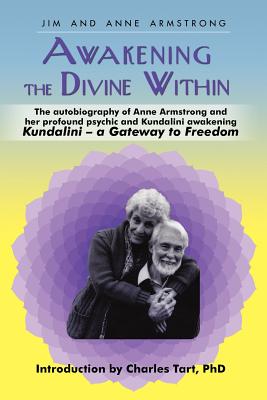 $22.95

Usually Ships in 1-5 Days
Description
---
The scene is a cobblestone road on the outskirts of Ancient Rome, at about the time of Caesar. An impeccably uniformed young Centurion drives a chariot erratically at full speed for a hundred meters or so, then, he stops, gets out and kicks the bloody body tied to the chariot. He again mounts the chariot, and whips the horses to a sudden start hoping to break the neck of the victim and bring this cruel ordeal to an end. Finally, the body fails to respond to the kicks.
Standing beside the once handsome body of a powerful athlete, but unseen to his executioner, is the indwelling spirit of Antonius giving thanks to the gods that his ordeal is finally over. He takes one last look at what had been his body, sadly turns his back on the world of flesh with all its pain and blends with the light of the unfamiliar realm of the gods.
For the past half-hour, Anne Armstrong, a petite young woman (my wife, Anne Armstrong), affectionately known to her friends and husband as Eddie, had lain upon a couch in the suburbs of Sacramento, California nearly 2,000 years later, reliving every excruciating moment of the torture.
Part II
"If I, Kundalini, appear reluctant, when you begin to re-direct me to the higher centers, it is because I wish to experience the most powerful expression of which I am capable. So I ask, how am I to be used? If I am to move up the spine, will I be given the proper encouragement and dedication that is necessary for me, Kundalini, to achieve my purpose? If this is not a serious intent there will be reluctance on my part to even listen. For I want to express myself in the most powerful way. At a personality level I really have no preference as to how I express myself-at the sexual level or as illumination. I am energy and I want my potency to be used in its entirely.