Milk and Honey (Hardcover)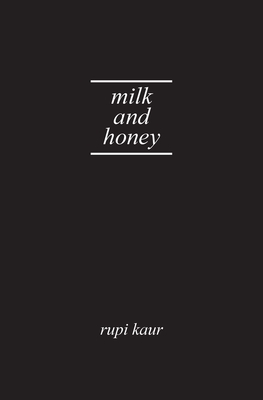 $19.99

Usually Ships in 1-5 Days
Description
---
Watch rupi kaur live now on Prime Video.

"Rupi Kaur is the Writer of the Decade." – The New Republic

A hardcover gift edition of milk and honey, the #1 New York Times bestselling poetry and prose collection by rupi kaur, which has sold over 3 million copies worldwide. milk and honey is a collection of poetry and prose about survival. About the experience of violence, abuse, love, loss, and femininity.

This clothbound edition features deckled edge paper, a woven ribbon marker, and a foreword written by the author.  The book is divided into four chapters, and each chapter serves a different purpose. Deals with a different pain. Heals a different heartache. milk and honey takes readers through a journey of the most bitter moments in life and finds sweetness in them because there is sweetness everywhere if you are just willing to look.
About the Author
---
A breakout literary phenomenon and #1 New York Times Bestselling Author, Rupi Kaur wrote, illustrated, and self-published her first poetry collection milk and honey in 2014. Next came its artistic siblings the sun and her flowers and home body, both debuting at #1 on bestseller lists across the world. These collections have sold more than 11 million copies and have been translated into over 43 languages. In 2022, she released her fourth book Healing Through Words which is a journey of guided writing exercises to help the reader explore their creativity.

As she has done from the very beginning, Rupi self-produced Rupi Kaur Live, the first poetry special of its kind, which debuted on Amazon Prime Video in 2021.

Rupi Kaur graces stages across the globe on sold-out world tours. These shows are a poetic theatrical experience interlaced with her own touch of stand-up. Her work touches on love, loss, trauma, healing, femininity, and migration. She feels most at home when creating art, performing her poetry onstage, and spending time with family and friends.
Praise For…
---
Rupi Kaur's first book, Milk and Honey is the poetry collection every woman needs on her nightstand or coffee table. Accompanied by her own sketches, the beautifully honest poems read like the everyday, collective experiences of today's modern woman. (Erin Spencer, Huffington Post)

Rupi Kaur's writing echoes of artistry and wisdom which is seen in the work of those that have been writing for years. (Samira Sawlani, Media Diversified)

Rupi's poetry is simple, relatable, gorgeous, and grounded in the everyday experiences of young women. (Rachel Grate, Hello Giggles)

The honest words of Rupi Kaur leave you continuously wanting more as she writes with eloquence and poise. Her work will send you to past thoughts and realities you might not have known you had.
(Sienna Brown, WildSpice Magazine)

"A must-have poetry collection about healing and hope." (Bustle)

"At age 24, Rupi Kaur has been called the voice of her generation." (USA Today)

"Rupi Kaur has vision beyond her years … Her work is simply but powerfully expressed, and viscerally captures both universal human experience and the particular struggles of a young woman today." (Huffington Post)

"Discussing themes of love, loss, and healing, Milk and Honey finds a way to connect to every reader. " (Business Insider)

"Milk and Honey brings any tormented reader to an enlightened state of self-reflection that may have taken years to accomplish alone."
  (Elite Daily)