The Sun and Her Flowers (Hardcover)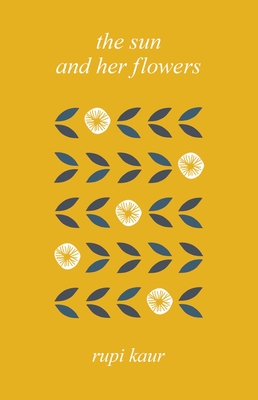 $21.99

Usually Ships in 1-5 Days
Description
---
Watch rupi kaur live now on Prime Video.

"Rupi Kaur is the Writer of the Decade." – The New Republic

A revised hardcover edition of the #1 New York Times bestseller the sun and her flowers by rupi kaur, author the #1 New York Times bestseller milk and honey. Her long-awaited second collection of poetry is a vibrant and transcendent journey about growth and healing. Ancestry and honoring one's roots. Expatriation and rising up to find a home within yourself.  

Divided into five chapters and illustrated by kaur, the sun and her flowers is a journey of wilting, falling, rooting, rising, and blooming. A celebration of love in all its forms.

this is the recipe of life
said my mother
as she held me in her arms as i wept
think of those flowers you plant
in the garden each year
they will teach you
that people too
must wilt
fall
root
rise
in order to bloom
About the Author
---
A breakout literary phenomenon and #1 New York Times Bestselling Author, Rupi Kaur wrote, illustrated, and self-published her first poetry collection milk and honey in 2014. Next came its artistic siblings the sun and her flowers and home body, both debuting at #1 on bestseller lists across the world. These collections have sold more than 11 million copies and have been translated into over 43 languages. In 2022, she released her fourth book Healing Through Words which is a journey of guided writing exercises to help the reader explore their creativity.

As she has done from the very beginning, Rupi self-produced Rupi Kaur Live, the first poetry special of its kind, which debuted on Amazon Prime Video in 2021.

Rupi Kaur graces stages across the globe on sold-out world tours. These shows are a poetic theatrical experience interlaced with her own touch of stand-up. Her work touches on love, loss, trauma, healing, femininity, and migration. She feels most at home when creating art, performing her poetry onstage, and spending time with family and friends.
Praise For…
---
"Rupi Kaur is Kicking Down the Doors of Publishing" (The New York Times)

"At age 24, Rupi Kaur has been called the voice of her generation." (USA Today)

"Rupi Kaur sits atop a new wave in poetry." (The Wall Street Journal)

"Perhaps the best-known poet in the English-speaking world at this point" (Bustle)

"Rupi Kaur reinvents poetry ... (she) is undeniably equipped with the poet's ability to articulate emotions that readers struggle to make sense of." (The Economist)

"Outselling Homer Ten to One" (New York Magazine)

"The Poet Who Touched a Nerve" (The Times (London))

"there's no denying that Rupi Kaur is currently one of the most — if not the most — popular poets in America …" (Boston Globe)

"Rupi Kaur is a rock star."  (The Kansas City Star)