Bert and Mamie Take a Cruise (Hardcover)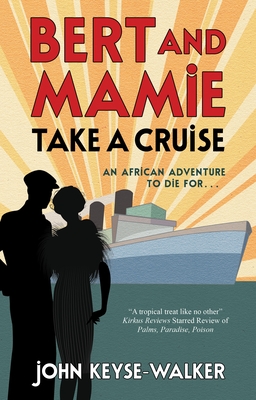 $30.99

Usually Ships in 1-5 Days
Description
---
All aboard the good ship SS Columbus for an African adventure to die for . . .
"Fascinating . . . Bert and Mamie Mason are the most entertaining detective couple since Nick and Nora Charles" Publishers Weekly
February 1939
. Mamie Mason isn't enthusiastic when Bert, her husband of thirty years, persuades her to join him on an African cruise. Bert might be pining for adventure, but Mamie's perfectly content with her comfortable life in Hills Corners, Ohio. But once the couple board the glamorous SS
Columbus
, Mamie has to admit - much as it pains her - that Bert was right. Swimming in the pool, dancing under the stars, their own bedroom steward to serve their every whim . . . Mamie settles in and prepares to thoroughly enjoy all the sights that Africa has to offer, in the company of a motley collection of eccentric first-class passengers. Then Mamie witnesses something shocking - and her vacation takes a twist that neither she nor Bert could ever have predicted. Far from home, with a killer in their midst, the couple's only choice is to turn detective. But surrounded by Nazis, spies and passengers with secrets, how can they uncover the killer - enjoy their vacation of a lifetime - and make it back to Ohio alive?
This page-turning historical mystery, set in the months before the outbreak of the Second World War, is a great choice for fans of Agatha Christie's Death on the Nile, Ruth Ware's The Woman in Cabin 10, and anyone who enjoys arm-chair travelling, with a dash of mystery and adventure
About the Author
---
Award-winning author John Keyse-Walker practiced law for thirty years, representing business and individual clients, educational institutions and government entities. He is an avid salt- and freshwater angler, a tennis player, kayaker and an accomplished cook. He lives in Ohio with his wife.