The Blue Collar CEO: My Gutsy Journey from Rookie Contractor to Multi-Millionaire Construction Boss (Hardcover)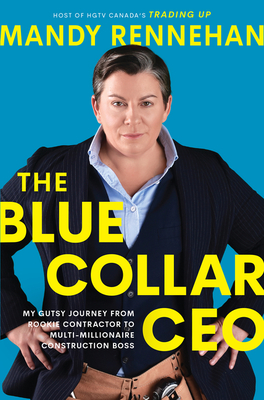 $26.99

Coming Soon - Available for Pre-Order Now
Description
---
Born in Yarmouth, Nova Scotia, Mandy Rennehan began her business career at age ten, catching bait and selling it to local fishermen. She was so good at her job, she was soon out-earning her father, a local lobster fisherman. At the age of seventeen, Rennehan decided to strike out on her own, so she packed a hockey bag and fled to Halifax, where she began cold-calling construction companies, volunteering to work for free so she could learn more about contracting and the trades.  
Three years later, Rennehan had garnered all the experience she needed to start her own company, Freshco, a boutique retail-maintenance and construction company. While Rennehan was still in her early twenties, her reputation as a knowledgeable and trustworthy contractor led to her first corporate contract with The Gap. Freshco has since become a multi-million-dollar company whose clients include Apple, Lululemon, Tiffany & Co., Sephora, Anthropologie, Nike and Home Depot, to name but a few.
Known as "the blue-collar CEO" for her ability to seamlessly navigate between the white- and blue-collar worlds, Rennehan is a tireless advocate for the trades. Her savvy business skills and innovative thinking took her to the top of a male-dominated industry before she reached the age of thirty. This book is the "respectfully uncensored" story of how Rennehan succeeded in business through honesty, integrity and most of all, authenticity: by always remaining true to herself and her vision for success.
About the Author
---
MANDY RENNEHAN is a sought-after speaker, philanthropist, award-winning entrepreneur and trade-industry ambassador who runs a multi-million-dollar retail renovation company named Freshco (not the grocery store). As an LGBTQ business leader, her personal passion is promoting the trades as a career option for men and women. In Canada, Rennehan is a lead advisor in the federal government's national campaign to encourage apprenticeships and promote the skilled trades. She has received numerous business awards, including Canada's Most Admired CEO, the Toronto Region Board of Trade Business Leader of the Year Award, the RBC Canadian Women Entrepreneur Momentum Award, and a Top 25 Women of Influence Award, among many others. She is also the host of HGTV's new renovation show, Trading Up, which debuts in 2022.