Les Mystères de Ville-Cartier: La Bande Dessinée: Les Vampires Ne Portent Pas de Robe À Pois (Adventures of the Bailey School Kids #1) (Paperback)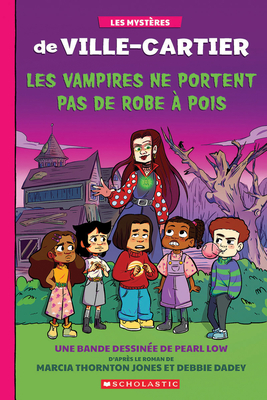 Description
---
See below for English description.
Voici la's rie id ale pour les lecteurs d butants et les nouveaux lecteurs autonomes. Les enfants ne pourront plus l cher cette bande dessin e loufoque et intrigante
Les l ves de la classe de troisi me ann e de l' cole l mentaire Cartier sont si difficiles discipliner que tous leurs enseignants ont abandonn . Mais leur nouvelle professeure, Mme Lefroy, est diff rente (et c'est le moins qu'on puisse dire). Toute juste arriv e de Transylvanie, elle a emm nag dans une trange maison de Ville-Cartier, et elle porte une myst rieuse broche dont l' clat brillant
est aussi vert que ses yeux. Se pourrait-il que Mme Lefroy soit un vampire, malgr
sa robe pois?
In graphic novel format for the first time, this series is ideal for even the youngest readers. With funny, simple text, unforgettable characters, and illustrations that
support comprehension, this series will turn kids into lifelong book lovers
The third-graders at cole l mentaire Cartier are so hard to handle that all of their teachers have quit. But their new teacher, Mme. Lefroy, is different (to say the least). She's just moved from Transylvania into a spooky old house in Ville-Cartier. She wears a mysterious brooch that glows as green as her eyes. Could Mme. Lefroy be a vampire?
The ideal series for beginning and newly independent readers, kids won't be able to put down this spooky graphic novel
Original title: The Adventures of the Bailey School Kids: Vampires Don't Wear Polka Dots