365 Activités Avec Les Briques Lego(r) (Hardcover)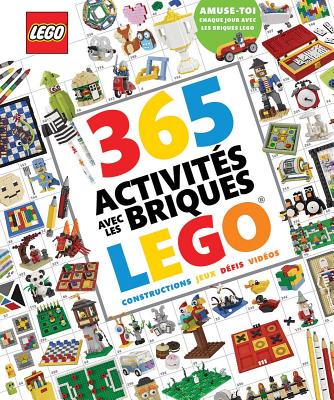 $30.99

Usually Ships in 1-5 Days
Description
---
See below for English description.
Ce livre g nial, qui comprend des conseils pratiques provenant d'amateurs de constructions LEGO(R) et bien plus encore, stimulera la cr ativit des lecteurs tout en leur enseignant de nouvelles techniques de montage.
Qu'il s'agisse de simples projets r aliser en quelques minutes ou de projets inspirants qui prendront des heures compl ter, 365 activit's avec les briques LEGO incitera les jeunes de tous ges observer leurs briques LEGO sous un tout nouvel angle.
En suivant les activit's propos es, vous pourrez notamment assembler votre propre animal de compagnie, participer un contre-la-montre pour construire la plus haute tour et cr er une chasse au tr sor
Featuring visual tips from LEGO(R) fan builders, and more, this interactive book encourages creativity while teaching new building skills.
This comprehensive guide will inspire readers to look at their LEGO bricks in new and exciting ways. Featuring imaginative play and building ideas, from LEGO projects that take just a few minutes and require a handful of bricks to inspirational build ideas and activities to keep LEGO enthusiasts occupied for hours. Ideas include building your own LEGO pet, challenging your friends to make the tallest LEGO tower against the clock, creating a LEGO treasure hunt, and more.
Original title: 365 Things to Do with LEGO(R) Bricks