Katerina's Wish (Hardcover)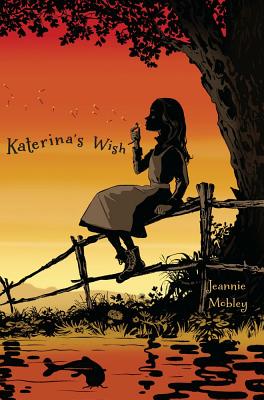 $15.99
Email or call for price
Fall '12 Kids List
---
"Life in a turn-of-the-century Colorado coal town means relentless work and little reward for 13-year-old Katerina and her immigrant family. Reminded of a folktale about a wish-granting fish, Trina casts a few wishes of her own when she sees a carp in a nearby pond. New hair ribbons and a favorite dessert appear, so does she dare wish for the impossible? A farm? A brighter future? Trina discovers that wishes can come true with a little magic and a whole lot of moxie. I'm wishing for a sequel to this absolutely wonderful debut novel!"
— Julie Shimada, Maria's Bookshop, Durango, CO
Description
---
In this moving debut, an immigrant girl discovers that hard work and determination can make dreams come true.

Katerina has a dream. It's her papa's dream, too. Her family came to America to buy their own farm. But a year later, Papa is still working in the dangerous coal mine. Each day, the farm seems farther away.
Then Katerina is reminded of the carp that granted three wishes in an old folktale. When her younger sisters hear the story, they immediately make wishes. Trina doesn't believe in such silliness—but what is she to think when her sisters' wishes come true?
A farm is still too big to wish for. But, with the help of the neighbor's handsome son, Trina starts building her dream with hard work and good sense. Then tragedy strikes, and it seems that nothing Trina wishes for will ever come true again.
With warmth and gentle humor, Jeannie Mobley tells the story of a girl whose determination is as inspiring as her dreams.
About the Author
---
Jeannie Mobley is an archaeologist and professor who lives in Colorado. Her first novel, Katerina's Wish, received three starred reviews, won the Colorado Book Award, and was a New York Public Library 100 Titles for Reading and Sharing selection. She is also the author of Searching for Silverheels, which received a starred review. Visit her at JeannieMobley.com.
Praise For…
---
"I adored this beautiful debut novel about a spunky Bohemian immigrant girl who dares to realize her family's American dream through creativity and hard work. The loveable characters, vivid setting, and magical folktales completely drew me into Katerina's world, and I didn't want to leave."--Laura Resau, author of Star in the Forest, What the Moon Saw, and Red Glass

* "Weaving rich details of life in a mining town at the turn of the 20th century with the pacing of a good old-fashioned historical romance and conveying it all in Katerina's heartfelt voice, Mobley has constructed a world where one determined teenager with brains for business, the bravery to stand up for herself and the ability to find love helps make dreams come true."--Kirkus Reviews, *STARRED

* "The importance of ingenuity, faith, confidence, and the willingness to dream shine through in a rich story threaded with traditional folk tales, which offers realistic dilemmas and a vibrant setting and cast. As Trina rises above the forces conspiring to quash her dream, readers will appreciate her success as she learns the rewards of persistence."--Publishers Weekly, *STARRED

"Historical fiction with a touch of whimsy and romance."--School Library Journal