Three Stations: An Arkady Renko Novel (CD-Audio)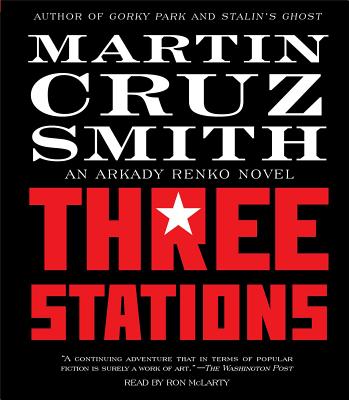 for information about purchasing this book, please contact orders@bookpassage.com
Description
---
Martin Cruz Smith's Three Stations is now available on audio for only $14.99!

For the last three decades, beginning with the trailblazing Gorky Park, Inspector Arkady Renko has captivated listeners with detective tales set in Russia. Now, in Three Stations, Renko's skills are put to their most severe test.

Though he has been technically suspended from the prosecutor's office for once again turning up unpleasant truths, Renko strives to solve a last case: the death of an elegant young woman whose body is found in a construction trailer on the perimeter of Moscow's main rail hub. It looks like a simple drug overdose to everyone—except to Renko, whose examination of the crime scene turns up some inexplicable clues, most notably an invitation to Russia's premier charity ball. Renko uncovers a web of death, money, madness, and a kidnapping that threatens the woman he is coming to love and the lives of children he is desperate to protect. In Three Stations, Martin Cruz Smith produces a complex and haunting vision of Russia's emergent secret underclass of street urchins, greedy thugs, and a bureaucracy still paralyzed by power and fear.
About the Author
---
Martin Cruz Smith's novels include Gorky Park, Stallion Gate, Nightwing, Polar Star, Stalin's Ghost, Rose, December 6, Tatiana, The Girl from Venice, and The Siberian Dilemma. He is a two-time winner of the Hammett Prize, a recipient of the Mystery Writers of America's Grand Master Award and Britain's Golden Dagger Award, and a winner of the Premio Piemonte Giallo Internazionale. He lives in California.

Ron McLarty has appeared on Broadway in That Championship Season, Our Country's Good, and Moonchildren. His film credits include Two Bits, The Postman, and The Flamingo Kid. He has starred on television in Spenser for Hire and Cop Rock. Mr. McLarty is also a novelist and an award-winning playwright.