The Guide to Writing Fantasy and Science Fiction: 6 Steps to Writing and Publishing Your Bestseller! (Paperback)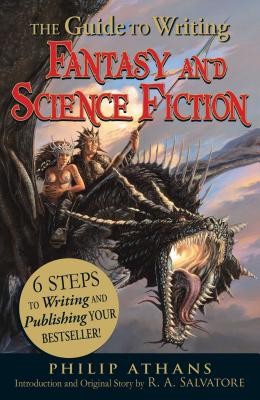 Description
---
Science fiction and fantasy is one of the most challenging—and rewarding—genres to write. But with New York Times bestselling author Philip Athans and fantasy giant R. A. Salvatore at your side, you'll create worlds that draw your readers in—and keep them reading!

Drawing on his years of experience as one of the most acclaimed professionals in publishing, Wizards of the Coast editor Athans explains how to set your novel apart and break into this lucrative field. From devising clever plots and building complex characters to inventing original technologies and crafting alien civilizations, Athans gives you the techniques you need to write strong, saleable narratives.

Athans applies all of these critical lessons together in an unprecedented deconstruction of a never-before-published tale by the one and only R. A. Salvatore!

There are books on writing science fiction and fantasy, and then there's this book—the only one you need to create strange, wonderful worlds for your own universe of readers.
About the Author
---
Philip Athans is a fantasy author of numerous titles, including the Baldur's Gate series, the Watercourse Trilogy, and The Guide to Writing Fantasy and Science Fiction.

As one of the fantasy genre's most successful authors, R. A. Salvatore enjoys an ever-expanding and tremendously loyal following. His books regularly appear on The New York Times bestseller lists and have sold more than 30 million copies. Salvatore's most recent original hardcover, The Two Swords, book three of The Hunter's Blade Trilogy debuted at #1 on The Wall Street Journal bestseller list and at #4 on The New York Times bestseller list. His books have been translated into numerous foreign languages, including German, Italian, Finnish, Greek, Hungarian, Turkish, Croatian, Bulgarian, Yiddish, Spanish, Russian, Polish, Czech, and French.