Entrepreneurship: The Bottom Line (Paperback)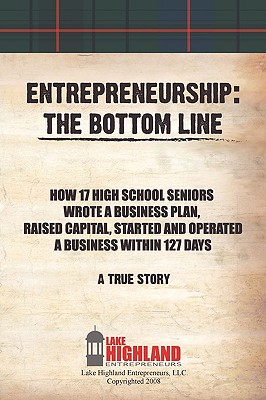 $15.95

Usually Ships in 1-5 Days
Description
---
It's been reported that up to 98% of all businesses in America fail. In fact, in a well-circulated Youtube video, "Shift Happens", it is reported that China and India have more honor students than we have students. In short, the video explained how the Global Economy is shifting the power away from the U.S. How can this problem be solved when the U.S. government spends less than 70 million dollars a year (less than half of what Nintendo spends annually on marketing) on a failing public education system? How can students, parents, and/or aspiring entrepreneurs obtain the tools necessary to conquer this problem?
The answer lies within our school systems' ability to innovate.
Lake Highland Preparatory School is accepting this challenge.
In January of 2008, seventeen high school students formed a limited liability company to produce the ultimate entrepreneurial handbook- Entrepreneurship: The Bottom Line. This manual/journal captures the real world challenges of entrepreneuralism in a clear, concise and compelling story, presenting how most of these challenges can be overcome. This is a prime example of what entrepreneurialism is all about.