This Burns My Heart: A Novel (Hardcover)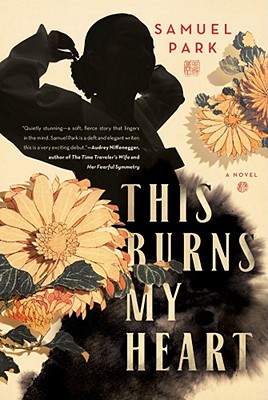 $25.00
Email or call for price
July 2011 Indie Next List
---
"In South Korea in 1960, Soo-Ja Choi is a beautiful young woman from a well-to-do family. As the country is struggling to recover from a divisive war and tries to enter the modern world, Soo-Ja is exploring her options as a young adult. When her father does not allow her to accept a position studying to be a diplomat, he destroys her dreams. Over the next 15 years, she struggles with her life decisions, her new family, and a love she gave up before she understood the permanence of choice. A compulsive read, the novel is based on the life of Park's mother."
— Terry Gilman, Mysterious Galaxy Books, San Diego, CA
Description
---
Chamara is difficult to translate from Korean to English: To stand it, to bear it, to grit your teeth and not cry out? To hold on, to wait until the worst is over? Such is the burden Samuel Park's audacious, beautiful, and strong heroine, Soo-Ja Choi, faces in This Burns My Heart, an epic love story set in the intriguing landscape of postwar South Korea. On the eve of marriage to her weak, timid fiancé, Soo-Ja falls in love with a young medical student. But out of duty to her family and her culture she turns him away, choosing instead a world that leaves her trapped by suffocating customs.

In a country torn between past and present, Soo-Ja struggles to find happiness in a loveless marriage and to carve out a successful future for her only daughter. Forced by tradition to move in with her in-laws, she must navigate the dangers of a cruel household and pay the price of choosing the wrong husband. Meanwhile, the man she truly loves remains a lurking shadow in her life, reminding her constantly of the love she could have had.

Will Soo-Ja find a way to reunite with her one true love or be forced to live out her days wondering "what if " and begin to fully understand the meaning of chamara?

He is not just telling her to stand the pain, but giving her comfort, the power to do so. Chamara is an incantation, and if she listens to its sound, she believes that she can do it, that she will push through this sadness. And if she is strong about it, she'll be rewarded in the end. It is a way of saying, I know, I feel it, too. This burns my heart, too.
About the Author
---
Samuel Park was an Associate Professor of Creative Writing at Columbia College Chicago. He graduated from Stanford University and the University of Southern California, where he earned his doctorate. He is the author of the novella Shakespeare's Sonnets and the writer-director of a short film of the same name, which was an official selection of numerous domestic and international film festivals. He is also the author of the novels This Burns My Heart and The Caregiver. His nonfiction has appeared in The New York Times. Born in Brazil and raised in Los Angeles, he split his time between Chicago and Los Angeles. In April 2017, Samuel Park died of stomach cancer at the age of 41 shortly after finishing The Caregiver.
Praise For…
---
"An incredible read . . . I don't want it to end. I love it!" —Hoda Kotb, "Today"

"Atmospheric and exuberantly filmic . . . a simple but visceral romance in a refreshing Korean setting." —Christine Thomas, The Miami Herald

"[A] harrowing, emotionally dense debut . . . set to the music of sensuous prose . . . like all good love stories, it lets go of the ambiguity it's built when the time is right. The path is long and surprising, the drama is high, there's pain involved, and the twists and turns are reliably, recognizably and realistically unpredictable." —Patrick Somerville, TimeOut Chicago

"An unflappable heroine anchors Park's epic post–Korean War love story. . . . But this is no quiet tale of yearning: the plot kicks in with an unexpected fierceness, and the ensuing action—a kidnapping, fist fights, blackmail—make for a dramatic, suck-you-in chronicle of a thrilling love affair." —Publishers Weekly

"Captivating . . . Park's novel can be read as a contemplation of loss and the angst of unrequited love, much like Dr. Zhivago . . . First-rate literary effort." —Kirkus Reviews

"A vivid and involving novel . . . Park portrays, with penetrating compassion, individuals trapped in soul-crushing, sexist traditions . . . Smart, affecting, and unabashedly melodramatic, Park's novel of adversity, moral clarity, and love is consuming and cathartic." —Booklist

"This Burns My Heart is quietly stunning—a soft, fierce story that lingers in the mind. Samuel Park is a deft and elegant writer; this is a very exciting debut." —Audrey Niffenegger, New York Times bestselling author of The Time Traveler's Wife and Her Fearful Symmetry

"This Burns My Heart is a delicate yet powerful story of love, loss, and endurance. The emotional world of the heroine, Soo-Ja, is beautifully realized; I found myself caught up in her dramas from start to finish, and was reluctant to part with her at the novel's close. A lovely, romantic, haunting book." —Sarah Waters, author of The Little Stranger, Fingersmith, and Tipping the Velvet

"This Burns My Heart never loses touch with the human passion at the core of its epic romance. Writing prose with the beauty of poetry, Samuel Park traces a young woman's journey to hard-won maturity, alongside the meteoric rise of post-war Korea, in a novel which shines with eloquence and wisdom." —David Henry Hwang, Tony-Award winning author of M. Butterfly

"Samuel Park's astonishing novel, This Burns My Heart, provides mesmerizing perspective into the life of a Korean wife and lover—intricate and intimate as only a woman's secret life can be." —Jenna Blum, New York Times bestselling author of Those Who Save Us and The Stormchasers

"This Burns My Heart is at once a passionate and sensitive love story and a fascinating historical novel set against the cultural dislocations of a rising South Korea. In his heroine Soo-Ja, Samuel Park has created an emotionally resonant character that readers will root for and long remember." —John Burnham Schwartz, bestselling author of The Commoner and Reservation Road

"Both an epic love story and an intimate depiction of life in post-war Korea, This Burns My Heart introduces a singular heroine whose passions, struggles, and triumphs are mirrored in our own. Samuel Park is one of those rare writers whose talent transcends the limits of race and gender." —Wendy Lee, author of Happy Family

"This Burns My Heart captured me with a heroine who is both irresistible and flawed, and engrossed me with increasing twists in a triangle of love and sacrifice. The story explores how a fateful choice colors a decade of marriage, and challenges a young woman's ambition already constrained by traditional Korean culture. Sam Park paints all the flavors of post-war Korea in this vivid debut, and his understanding and expression of the human heart is universal." —Eugenia Kim, author of The Calligrapher's Daughter

"The very talented Samuel Park weaves a compelling, vivid story of one family's evolution that deftly mirrors Korea's development from ancient country to modern society." —Janice Y.K. Lee, New York Times bestselling author of The Piano Teacher