Building Global Biobrands: Taking Biotechnology to Market (Paperback)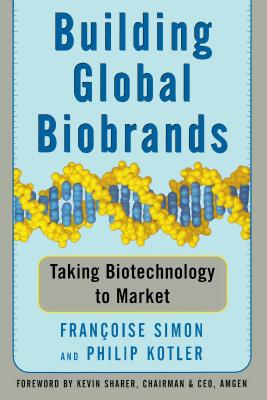 $22.95

Usually Ships in 1-5 Days
Description
---
From medicine and defense to food and cosmetics, biotechnological breakthroughs are creating huge new global market opportunities as well as unprecedented challenges. Companies from mega-pharmaceuticals to infotech giants and biotech start-ups must radically rethink their business models. In the first book on the business of biotechnology, Françoise Simon and Philip Kotler combine their biotechnology and marketing ex-pertise to show managers how to innovate with bionetworks, win customers with biobrands, and create sustainable advantage worldwide.

Simon and Kotler explain in clear nontechnical prose how innovation in the new biosector will be driven by a web of cross-industry collaborations, and in particular by three transforming forces: information technology, consumerism, and systems biology. With timely industry cases, the authors demonstrate that by capitalizing on these forces, companies from Hitachi and Siemens to Amgen and Pfizer could become the biotech leaders of the coming decades.

The chapters on building and sustaining biobrands are the centerpiece of this indispensable book. Simon and Kotler present a powerful framework that will enable any manager to redefine and transform traditional models into a new branding paradigm: the global "targeted" model as an alternative to the global "mass market" model. The authors illustrate how each of these models has proven successful in launching such blockbuster drugs as Viagra, Lipitor, Rituxan, and Gleevec.

Relevant to all industries impacted by biotechnology from consumer goods to industrial products, Building Global Biobrands is essential reading for every manager, marketer, analyst, and consultant who must understand the Biotech Century.
About the Author
---
Philip Kotler is the S.C. Johnson & Son Distinguished Professor of International Marketing at the Northwestern University Kellogg Graduate School of Management in Chicago. He is hailed by Management Centre Europe as "the world's foremost expert on the strategic practice of marketing." Dr. Kotler is currently one of Kotler Marketing Group's several consultants.

He is known to many as the author of what is widely recognized as the most authoritative textbook on marketing: Marketing Management, now in its 13th edition. He has also authored or co-authored dozens of leading books on marketing: Principles of Marketing; Marketing Models; Strategic Marketing for Non-Profit Organizations; The New Competition; High Visibility; Social Marketing; Marketing Places; Marketing for Congregations; Marketing for Hospitality and Tourism; and The Marketing of Nations.

Dr. Kotler presents continuing seminars on leading marketing concepts and developments to companies and organizations in the U.S., Europe and Asia. He participates in KMG client projects and has consulted to many major U.S. and foreign companies--including IBM, Michelin, Bank of America, Merck, General Electric, Honeywell, and Motorola--in the areas of marketing strategy and planning, marketing organization, and international marketing.