Censorship: The Threat to Silence Talk Radio (Paperback)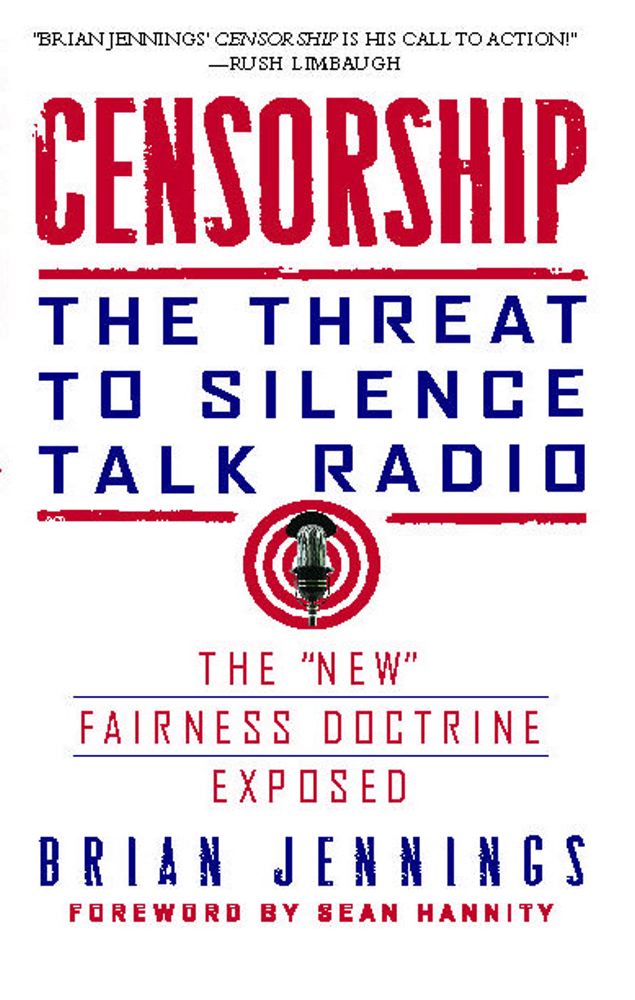 $19.99

Usually Ships in 1-5 Days
Description
---
Freedom of speech. It is our most cherished privilege as Americans, guaranteed by the First Amendment to the U.S. Constitution since 1791.

But our current presidential administration threatens to sharply curtail or silence altogether the freedom of expression that distinguishes America from the average dictatorship. What is under direct attack? Conservative talk radio.

During the Reagan administration, conservative talk radio burgeoned when the FCC voted to stop enforcing the Fairness Doctrine, which required all licensed broadcasters to present "balanced" viewpoints on controversial issues. The format was a smash hit, attracting an estimated 50 million listeners weekly. Popular, profitable, outspoken, powerful, influential—it's what the American people wanted, and its success was the Democrats' worst nightmare.

Now, the principles underlying the Fairness Doctrine threaten to be reinstated. Under cover of being "fair," they will be used as a means of censorship, allowing government to influence who owns our airwaves and thus controls the content, a mandate with far-reaching implications for all media—indeed, for freedom of speech for all Americans.
About the Author
---
Brian Jennings is one of nation's top talk radio programmers who served as National V.P. of Talk Programming for Citadel Broadcasting, one of the nation's largest radio companies for over a decade and served as programming head to over 40 radio stations nationwide. According to Talker's Magazine, he is also one of the founding fathers of the conservative talk radio format. Nominated 5 times as a national talk radio executive of the year by Radio and Records Magazine, Jennings is also a national award-winning journalist. His many awards include Columbia University's DuPont Award, the National Sigma Delta Chi Award, the Ohio State Award, the National Headliners Award, the National Abe Lincoln Award, and others. He has also worked as a consultant to national personalites such as Oliver North, Michael Reagan, Alan Colmes, Dick Cavett, and others. Considered one of the foremost authorities on talk radio today, Jennings resides in the Pacific Northwest and is a frequent guest on radio and television programs throughout the nation and a staunch defender of free speech.

Sean Hannity is the host of Hannity on Fox News and the nationally syndicated radio program The Sean Hannity Show. He is the author of four New York Times bestsellers—Conservative Victory, Deliver Us from Evil, Let Freedom Ring, and Live Free or Die.
Praise For…
---
"Brian Jennings' long and fruitful career in radio gives him an excellent vantage point on what can really happen to free speech on the radio if we're not careful. Censorship is his call to action!" -- Rush Limbaugh



"A must read for everyone who values the First Amendment." -- Mark R. Levin, nationally syndicated radio host and New York Times bestselling author of Liberty and Tyranny



"Brian Jennings' book correctly chronicles how my father, President Reagan, felt about the Fairness Doctrine. The book is a testament to free speech and if the President were here today, he would read and endorse this book." -- Michael Reagan



"Brian Jennings eloquently explains how whatever you consume, in whatever medium, is none of Big Brother's business. Although the government may stay away from this book, you should not." -- Alan Colmes



"Brian Jennings knows what the badly named Fairness Doctrine would do to stop the flow of information and the free exchange of opinions talk radio offers as the most successful and prolific format on radio in America. Censorship exposes the real danger that our representative form of government faces if selfish members of that same government succeed in effectively outlawing talk radio as we know it today." -- Lars Larson, The Lars Larson Show, KXL Radio, Portland, Oregon



"Brian Jennings' excellent book shines a contemporary light via his frontline experience in talk radio on yet the latest assault on our society's most valuable treasure -- freedom of speech." -- Michael Harrison, publisher, Talkers magazine